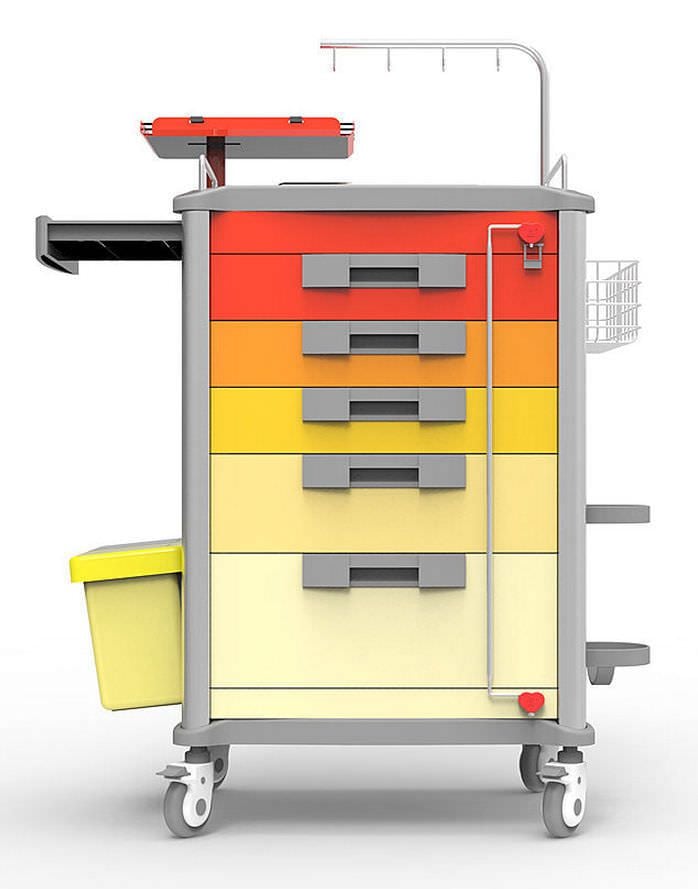 Multi-function cart / with waste bin / with oxygen cylinder holder / with defibrillator shelf BEIJING JINGDONG TECHNOLOGY CO., LTD
BEIJING JINGDONG TECHNOLOGY CO., LTD
L650×W480×H980mm 1. Material: ABS modular surface, portable cart body, corrosion resistance and easy cleaning. Stainless steel pillar, features high strength, abrasion resistance and corrosion resistance. Aluminum composite panel for side board and back board. Alumium alloy modular drawer 2. Full-drawer type design,which is detachable. Aluminum alloy modular drawer, installs three-section noise-free sliding rail, ABS divider which is convenient for sorted storage of medicine and device; Kirsite handle; Self-locking 3. Central control locking device, which features simple and convenient operation 4. Four noise-free anti-winding caster wheels, of which diameter is ?100mm Standard Accessories: Defibrillator Shelf, Extension Table, I.V. Pole, Cardiac CPR Board, Waste Bin, External Power Holder and Plug Board, Oxygen Tank Holder. Optional Accessoies: Needle box,Wirebasket.
Applications:multi-function
Components:with defibrillator shelf, with oxygen cylinder holder, with waste bin
Structure:modular
Other characteristics:stainless steel
× × × × × × × × × × × ×
Renzuang, Songzhuang Tongzhou District,
× × × × × × ×
---