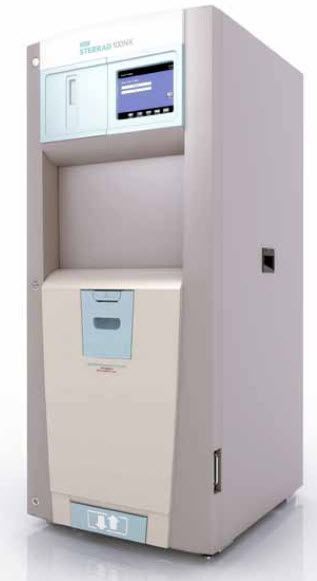 Medical sterilizer / hydrogen peroxyde / front-loading / low-temperature 18 ... 35 °C | STERRAD® 100NX® ASP Advanced Sterilization Products
18 ... 35 °C | STERRAD® 100NX®
The STERRAD 100NX is the latest in ASP's line of low-temperature sterilizers, and is ASP's most advanced hydrogen peroxide gas plasma sterilizing system. The technology employed allows for the sterilization of narrower lumens with a shorter cycle time as compared to older models. The unit features a 47 minute standard sterilizing cycle, a 42 minute flex cycle for single channel flexible endoscopes, a 24 minute express cycle that can be used for certain other instruments and equipment, and a 60 minute cycle is that is best suited for treating flexible endoscopes and their component cameras. Control is provided by means of the large touch screen display. There is a hydrogen peroxide monitor to ensure that adequate quantities of the chemical are available to achieve optimum sterilization level. The unit also features a USB port which can be put to use if remote cycle monitoring is a requirement.
a:3:{i:0;a:2:{s:4:"name";s:19:"Application domain:";s:3:"val";s:7:"medical";}i:1;a:2:{s:4:"name";s:24:"Sterilization procedure:";s:3:"val";s:17:"hydrogen peroxyde";}i:2;a:2:{s:4:"name";s:14:"Configuration:";s:3:"val";s:13:"front-loading";}}
---