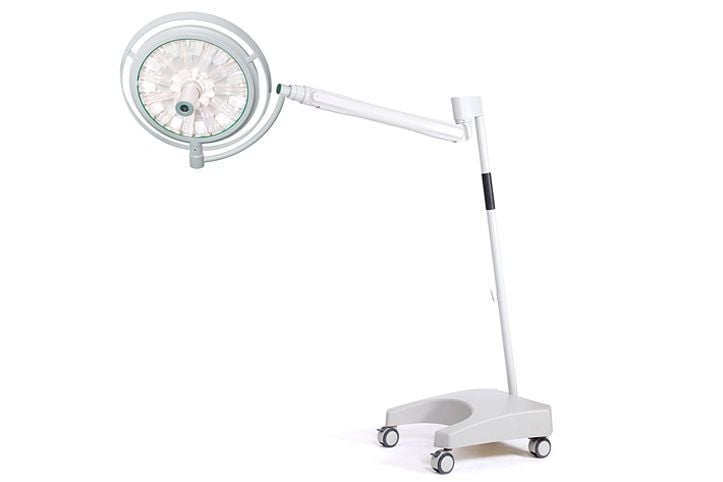 LED surgical light / mobile / 1-arm 140 000 lux | VIDA V50/R ConVida Healthcare & Systems
140 000 lux | VIDA V50/R
Description VIDA V LED surgical light, mobile unit (VIDA V50/R) uses high-efficacy light-emitting diodes (LED) and ConVida's patented refractive prisms to offer you a state?of?the?art blend of intensity and color temperature for any surgeries. Features Prism-Based Light Delivery Technology ConVida's patented optical system - combining advanced refractive prism lenses with innovative high power LED technology. Different Color Temperature Settings The color temperature of each VIDA V series lighthead can be adjusted to any of 5 settings (3500K, 4000K, 4250K, 4500K, 5000K) with a high CRI of 95, R9 94. Optimal Brightness without Glare This elegant, sophisticated optical system combines two types of high-powered LEDs with multiple refractive prisms to produce up to 140,000 lux of intensity without causing any discomfort, flare or glare. VIDA V Light Gives the Surgeon Control With the VIDA V, both focus and light intensity can easily be adjusted using the lighthead handle. Ambient Light GUIDE lighting provides low level white illumination and can be configured through lighting control. Built-in Battery Fully-charged battery operates continuously for approximately 6.5 hours*. (*calculate on full charge, at 50% intensity) Sleek Non-Sterile Handle V50 lighthead is fitted with a sleek, comfortable handle that makes repositioning easy and adds a stylish elegance to any O.R. setting. Easy-to-clean Compact Lighthead VIDA V50 lighthead is completely sealed to prevent bio-contaminants from entering either the surgical site or the lighthead itself. Long-life LEDs High-efficiency LEDs have a lifetime of 50,000+ hours under normal use. Hook Hook for storing the power cord.
Light source:LED
Other characteristics:mobile
Number of arms:1-arm
× × × × × × × × × × × × × × × × × × × × × × × × × × × × × ×
3200 NW 67th Ave, Building 3-325,,
× × × × × × ×
---