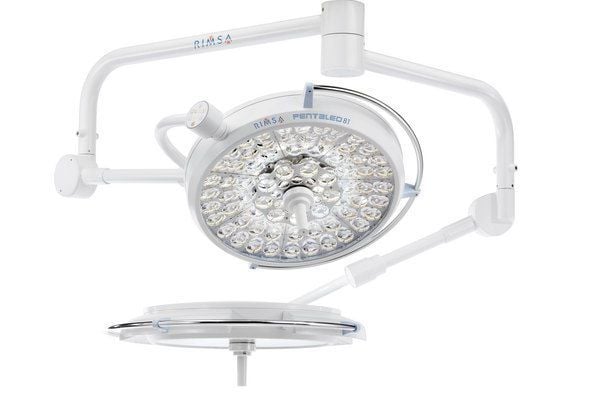 LED surgical light / ceiling-mounted / 2-arm 160 000 lux | Pentaled 81 Rimsa P. Longoni
160 000 lux | Pentaled 81
Light intensity mt.1: 160.000 lux Color temperature: 4.500/5.000 K Diameter of the reflector: Ø 630 mm 81 elliptical reflectors split into 9 modules, each containing 9 LEDs. The lamp lens is designed to guarantee perfectly focused lighting, i.e. without the need to focus the light every time the dome is moved. The light is pre-focused at different distances (from 80 cm to 200 cm). The E-View system lets the surgeon adjust the extent of the lit field to get the right type of light for each surgical procedure. The light structure of the lamp makes it easy to handle and yet still very stable. The controls on the membrane keyboard activate the following functions: • colour temperature (5000°K or 4500°K) • brightness control (up to 160 Klx) • lit field adjustment • switching on/off • EndoLed, a special type of light that facilitates endoscopic operations. The surgeon can select the exact brightness and colour temperature required The modular construction of the electronic board that feeds the LEDs guarantees continuous light, even in the unlikely event that a LED or board component should fail. Smooth 360° rotation with slip-ring contacts for power transmission.
Light source:LED
Number of arms:2-arm
---