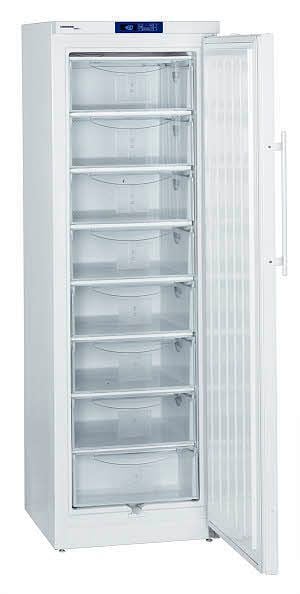 Laboratory freezer / upright / explosion-proof / 1-door -30 °C ... -9 °C, 310 L | LGex 3410 MediLine Liebherr
-30 °C ... -9 °C, 310 L | LGex 3410 MediLine
Suitable for general laboratory use, the LIEBHERR LGX 3410 Medline freezer operatesover a temperature range of -9 to -30 degrees Celsius. The freezer interior, which measures 40 cm deep by 42 cm wide, by 158.7 cm high contains eight compartments, with each compartment having a height of 18.5 cm. The freezer compartment requires manual defrosting.The unit has a self-closing door with a fitted lock. The door can be opened either by the handle or by means of pedal operation. Optical and acoustical warnings are given in the event of a malfunction.
Applications:laboratory
Configuration:upright
Other characteristics:explosion-proof
Number of doors:1-door
× × × × × × × × × × ×
× × × × × × ×
---