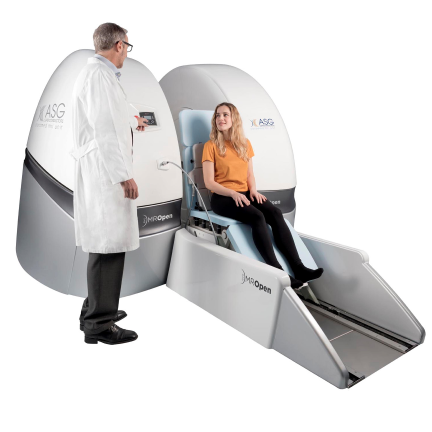 MROpen provides exceptional patient comfort, delivering a light MRI examination in a relaxing and reassuring environment. You can walk into the scanner and you can sit, lie slightly backward, lie horizontally or even stand. With no barrier between the patient and the surrounding environment, patients can see around them at all times or enjoy watching TV while comfortably seated in the scanner undergoing an MRI procedure. All this simply can't happen in conventional closed MRIs or even in "traditionally open" (C-shaped) systems. Claustrophobic reactions have so far never occurred in any one MROpen clinical site. Patient anxiety appears like a memory of the past.
MGB2: THE TRUE HELIUM-FREE INNOVATION
SMART
Allows revolutionary "open sky" magnet design.
Enables innovative clinical solutions in Imaging and Therapy.
SAFE
Intrinsically "Quench free".
No Helium-related hazards and safety systems. Hassle free maintenance.
GREEN
No Helium used.
Friendly to the environment. Lower power consumption. Saving natural resources.
SIMPLE
Makes revolutionary medical applications possible and easy.
ADVANCED
Optimizes Healthcare by providing:
• innovative clinical solutions
• better patient outcomes
• cost saving across the entire care cycle.
× × × × × × × × × × × × × × × × × × × × × × × × × × × × × ×
× × × × × × ×
More products from this supplier
---