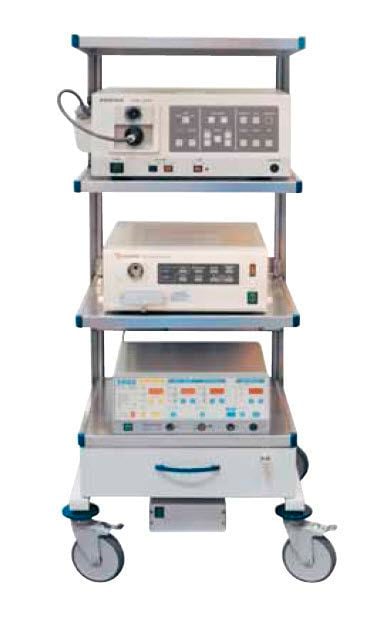 Endoscope trolley Paris - Madrid series Endo-Technik
Paris - Madrid series
The new trolley system has been especially developed by ENDO-TECHNIK for the endoscopic area, therefore you are able to keep and transport your expensive and valuable equipment absolutely safe. The trolleys are constructed solidly and robustly and therefore suitable for the hard and heavy working conditions in the hospital field. Firm and light driving properties are guaranteed. All trolleys have a base frame with stability beam made of steel. Alu-profiles with 3 T-grooves per profile cause a very high loading capacity and the infinitely variable adjustability of every working shelf. Ground-frame, alu- profiles, lockable drawer and keyboard are plastic coated, colour: RAL 7035 light grey. All shelves are fitted with circumferential protection edge with rounded comers The working-shelves series "Paris" are made of steel, plastic coated, colour: RAL 7035 light grey. The working-shelves series "Madrid" are made of structured stainless steel CNS 4301. Therefore, they a re very easy to clean, to disinfect and high hygienical. All working shelves are provided with a protection border. The endoscope holder safes your endoscope and provides you a free working plate (option). The trolley system is absolutely variable and offers the feasibility to choose a standard trolley or to build a new trolley considering your requests. Maximum permission load: Trolley max: 160 Kg, per working plate max. 50kg, per drawer and tray for keyboard max. 10 Kg.
a:1:{i:0;a:2:{s:4:"name";s:4:"Use:";s:3:"val";s:9:"endoscope";}}
---