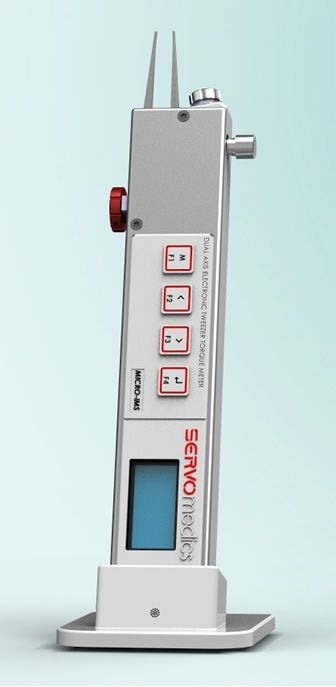 Dental tweezer / medical / surgical / electronic robotic Servocad Microtronics S.L.
Servocad Microtronics S.L.
- High-tech mechatronics miniaturization. - Electronic, Intelligent mechatronics system. IMS®. The system always know the force and the position of the component subject. intelligent locking system. - Movement claws fully parallel , to ensure proper clamping of the component. Dual funtion, It?s possible pick up or expand. - Real time mesure distance of the tips, for maxim precision pick. - Twin motor, medical grade, to control grips and control of the tool rotational spin. - Fully digital control, proportional resolution mix relative to the interface of the tool. - Resolution claws < 0.1 mm. - Removable and interchangeable tips. - Multiple tools available: Tweezers , scissors , forceps. - Tightening Torque sensor electronically programmable. - Spin control completely intuitive tool, spin the handle only. - Control by USB software. - All parts made in stainless steel 316L, handle in anodized alluminium. Design suitable for maintenance and repair for maximum durability. Fully sealed and waterproof. - Rechargeable , connection by USB. Upgrade software. - Special model for medical/dental. Incorporates unlock security system. Special model for microsurgery. CE 13485 approval. Pending FDA. - Custom medical tips. Tips sterilized by autoclave and handle by H2O2 gas plasma. - Patented Technology . In experimental phase . contact for more information.
Application:surgical, medical, dental
Type:electronic robotic
Other characteristics:stainless steel
---