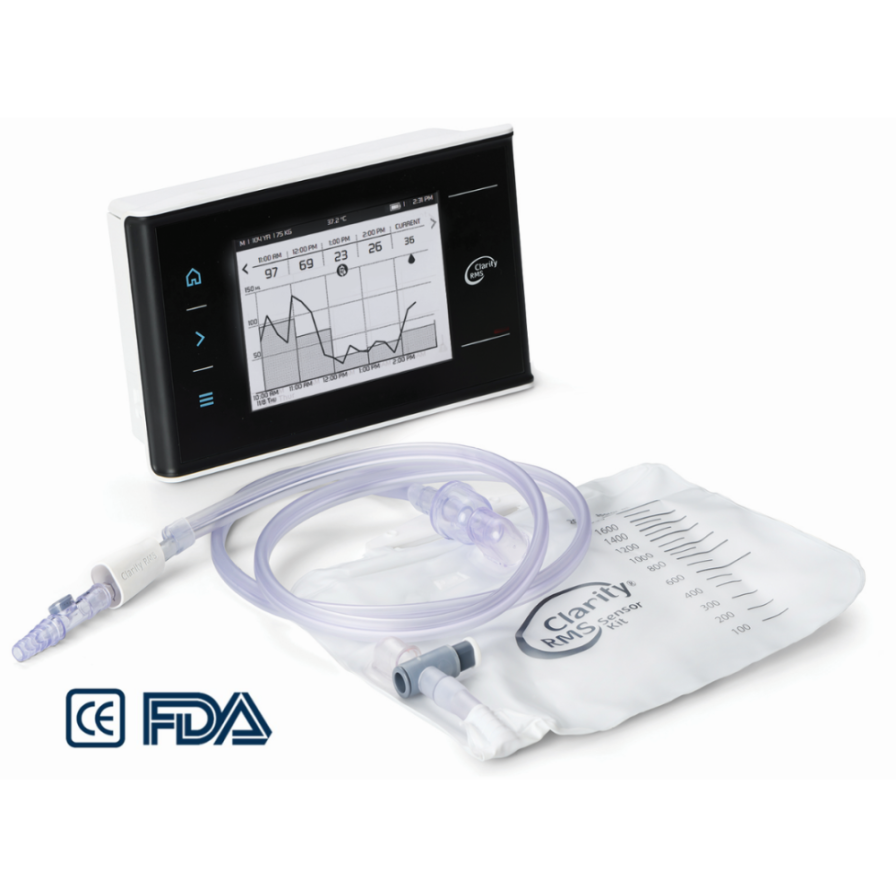 Clarity RMS
Monitoring system
Clarity RMS™ is a critical care monitoring system that continuously measures urine flow, automatically transmitting to the medical staff real-time data, and notifications of fluctuations, on a 24/7 basis. This information, which reflects changes in renal function, provides an early sign of AKI risk and facilitates rapid intervention. In addition, it is invaluable for monitoring treatment efficacy and managing fluid balance.

Clarity RMS: Real-time data from bedside to clinicians

High Usability
Cordless and battery-operated; Integrates seamlessly with ICU bed setup; MR compatible

Reliable Data
Accurate, direct readings of urine flow at catheter exit point; No miscalculations due to airlocks and dead volume in tubing or bag movement

Automatic Measurements
No manual intervention or risk of contamination; Not subject to human error

Open Architecture
Full connectivity and transmission of real-time patient data to hospital information systems, plus remote diagnostics and Tele-ICU

CAUTI Prevention
Electronic sensor facilitates CAUTI prevention; Also available pre-connected and sealed to 100% silicone temperature-sensing Foley catheter, in compliance with CDC Guidelines
Clarity RMS™ utilizes a sophisticated method for measuring a non-homogeneous, time-varying liquid in an unstable, uncontrolled environment. This method is based on a combination of company know-how as well as patented sensor technology and proprietary algorithms.
RenalSense's approach involves complex numeric techniques based on an in-depth understanding of fluid dynamics, thermodynamics, human physiology and the properties of the target environment. This knowledge is based on the compilation and analysis of tens of thousands of hours of clinical data in multiple, varied environments over seven years. In addition, 3D numerical simulators and machine learning technology were used for analysis of human urine and interpretation of its flow waveform.
Our patented sensor technology measures, analyzes and interprets the continuously changing composition and flow volume of urine, generating a unique set of electronic signals.
Proprietary algorithms separate the "noise" from these signals with high sensitivity and stability, achieving clear recognition and correct interpretation of different processes in an extremely dynamic environment.
Standard flow sensors cannot possibly cope with this degree of variability, as they require calibration to specific ranges of volume and composition.
Our patented sensor technology has been miniaturized and optimized for:
Small footprint – of both the sensor and the bed-mounted console
Low power – battery operated, lasts for days
Low cost – disposable, 1 per patient
Clarity RMS also uses sophisticated encryption technology based on military-grade ECC public-key cryptography for accurate data transfer between the console and sensor kit.
Our first publication described a prospective trial in 75 hospitalized patients with a urinary catheter in the General ICU at Hadassah Hospital, Jerusalem, Israel.
Hourly electronic measurements of urine flow by the Clarity RMS were compared to hourly manual measurements of urine output by the nursing staff and by a scientific scale (for reference).
Analysis of 1000 study hours showed that electronic measurements with the Clarity RMS were more consistent, reliable and accurate than nursing records. In addition, the study highlighted the weakness of serum creatinine levels as an accurate measure of kidney function.
The study conclusions emphasized the importance of Clarity RMS for identifying AKI and facilitating timely fluid management.
The Clarity RMS Electronic Sensor*
Easily connects to a Foley catheter, where it continuously and reliably measures critical fluctuations in urine flow. In addition, real time core body temperature can be measured, when used with a temperature-sensing Foley catheter.
*Single patient use

The Clarity RMS Console –
Embedded technology in this battery-powered bedside monitor continuously calculates and transmits real-time data from the sensor directly to all hospital information systems.

The Clarity RMS Intelligent Notification System
Notifies the medical team as soon as the patient's urine flow rate is below the threshold set by the user for urine output (ml/kg/hour), based on the RIFLE, AKIN, and KDIGO criteria.

More products from this supplier
---