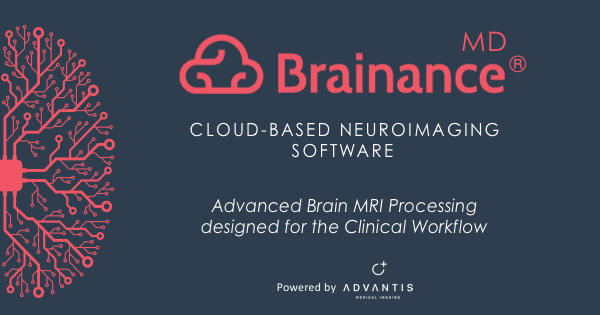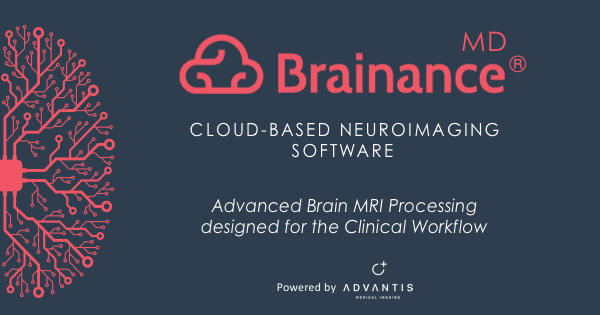 Brainance® MD
Cloud-Based Neuroimaging Software
Brainance MD
Advantis introduced Brainance® MD, the First Cloud-based Neuroimaging software for the display, processing and analysis of Brain MR Images, which include Diffusion Tensor Imaging, DSC Perfusion and Functional MRI all in a unified user environment, allowing this way Fusion among modalities. Brainance® MD is accessible from a web-browser and can support remote and collaborative analysis. Its reporting and visualisation features can assist healthcare professionals on optimising their daily clinical practice, while working with state-of-the art methodologies in a purely zero-footprint platform.
Brainance® MD is compatible with the DICOM standard and can also be seamlessly interconnected with PACS systems.

Brainance® MD is provided as a Software As A Service (SaaS) meeting the needs of larger and smaller organisations, which want to combine high quality of services with increased scalability of their resources.
The company has received the CE Mark for Brainance® MD to be used in clinical settings, but also offers Brainance® Academy (a pure research version) to researchers and academic institutions with the aim to equip physicians and neuroscientists with state-of-the-art technology and enhance their efforts on diagnosing and investigating severe brain disorders such as Brain Tumor, Alzheimer's and Multiple Sclerosis.
The first web based all in one software application

DICOM Viewer
Designed to be intuitive and simple to use. DICOM Viewer includes multiple image handling and manipulation features in order to assist you display, review and analyze 2D & 3D brain MRI studies.
Ability to take screenshots, notes and create structured pdf reports. You can also download into DICOM and NIFTI formats any generated maps, ROIs and fiber tracts.


DTI
Diffusion analysis is used to visualize local water diffusion properties. The Fiber Tracking feature utilizes the directional dependency of the diffusion to display the white matter structure in the brain or more generally the central nervous system.
Brainance MD includes features as: Parametric map auto-calculation (Colormap, Apparent Diffusion Coefficient map, Fractional Anisotropy map, B0 map, Axial Diffusivity map, Radial Diffusivity map etc.), Region/Volume of interest (ROI/VOI) statistics (histograms, mean & std values etc.), fiber tracking (3D reconstruction of the white matter's fiber bundles) and fiber tract statistics.


DSC Perfusion
Dynamic Susceptibility Contrast Perfusion (DSC Perfusion) analysis provides information about the blood vessel structure and characteristics as a response of the brain to the injection of a specific contrast agent.
Brainance MD includes features as: Parametric map auto-calculation (rCBV, rCBF, rMTT, rTTP, nCBV, nCBF etc.), Region/Volume of interest (ROI/VOI) statistics (probability density histograms, mean & std values etc.), and mirroring ROI analysis.


Functional MRI
fMRI analysis is used to highlight small magnetic susceptibility changes in the human brain in areas with altered blood-flow resulting from neuronal activity.
Brainance MD enables the user to produce activation maps generated according to statistical semi-automated calculations and user input (design matrix, z-threshold etc.). Those activation maps are displayed as a new sequence on both 2D and 3D viewer.


Fusion
Brainance MD gives the user the ability to combine the initial uploaded sequences and the calculated maps in a unified environment in order to facilitate multi-modal studies and provides him with a variety of data for a better understanding of each case.
For instance the activated regions specified by the fMRI processing can be used as ROIs for the Fiber Tracking process.
Reporting
With Brainance MD you can create exam reports which include all the findings from the analysis of Brain MRI exams, such as screenshots, maps and annotations.
The report is generated automatically with a click of a button and can be downloaded in a pdf format. Moreover, the report can be saved back to your PACS as a DICOM file.
Exam reports are also available to your account and accessible by all members of your healthcare organization in order to achieve pair and cross reviews.


Multi Site
After creating your account on Brainance MD, you will be able to invite other people to join the organizational account.
Invited members such as neuroradiologists, neurosurgeons and MRI technologists will be able to display, process and review the shared exams according to their accessibility rights. Your team can work collaboratively and even remotely on the same dataset.
No matter how many locations your healthcare institution has, you can share, manage and access your studies from anywhere under the same organizational account.


Data Management
Brainance MD is MRI vendor agnostic.
If you need help with PACS connection our technical team will assist you.
With Brainance MD you can also upload your exams by using the web-browser upload form within the platform. Select and upload the exams from your desktop or any external CD/DVD and USB device.
Export any generated report, screenshot, map, ROI or even fiber tracts in DICOM or NIFTI format. All results can be stored back to your PACS as new sequences of the initial study uploaded.


Security
The Privacy and Security of your personal information as well as your patient's health information is our first priority.
Brainance MD applies robust security protocols during upload, download as well as throughout the entire storage period.
Brainance MD incorporates password security, encryption of data, SSL/TLS data trasmission protocol, encoded session key, HTTPS encrypted connection, user access rights and audit logs.
More products from this supplier
---