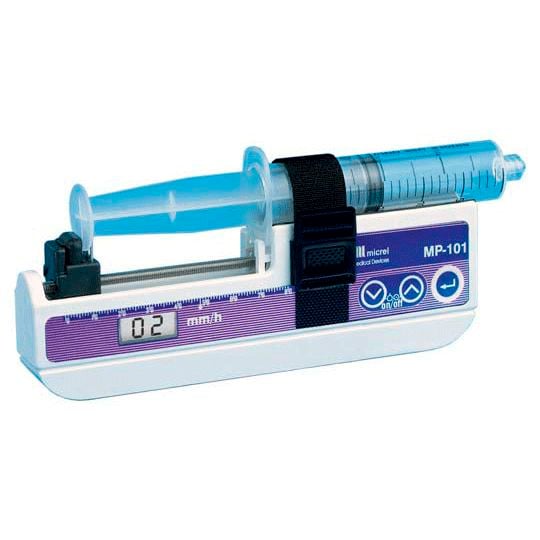 Ambulatory syringe pump / 1 channel 1 ? 99 mm/hr | MP 101+ Micrel Medical Devices
1 ? 99 mm/hr | MP 101+
The MP 101+ is a reliable and simple system that is used for infusion therapy for different applications. It provides accurate measurement in mm/hr, easy to set up, robust design and is truly ambulatory. You can easily identify an alarm because of the informative display. Everything in the product is automated. The pump itself is operated and controlled by a dual microprocessor that ensures smooth operation for every drug delivery process. The MP 1-+ can accommodate any size and brand of syringes between 5 and 50ml. You can program the product in mm/h. The operation instructions are easy to understand. It even includes a conversion table which has an ml/hr to mm/hr conversion and the ml/HR to mm/HR conversion which is common when using syringes. You can even download the rate converter for ease of use. The MP 101+ is best used in hospital and home care treatment because it has very low battery consumption.
Number of channels:1 channel
Application:ambulatory
---