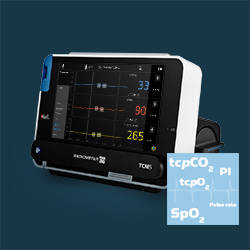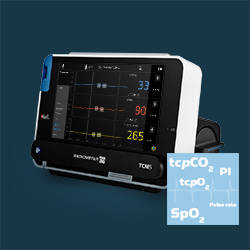 Monitor vital signs of sensitive patients with reliable, smart and intuitive technology
Not available in the US
Sensitive patients, like neonates, require comfortable care.
With transcutaneous monitoring, you can easily keep track of the oxygenation and ventilation status in sensitive patients and react immediately, should any changes in these occur.
The TCM5 FLEX transcutaneous monitor provides accurate and continuous measurement of oxygenation and ventilation status of neonatal and pediatric patients, adult ICU patients and patients undergoing non-invasive ventilation (NIV).
Smart meets sensible
In the neonatal intensive care unit (NICU), constantly measuring the temperature of the sensor and keeping track of how long a sensor has been applied to the skin are crucial to avoid burning the sensitive skin of the neonate.
That's why the TCM5 FLEX transcutaneous monitor has a special NICU mode which automatically controls the sensor temperature and how long the sensor has been applied to the skin.
A variety of sensor fixation options and the use of a small sensor which is applied gently to the sensitive skin contribute to patient comfort.
Designed with ease of use in mind
The TCM5 FLEX monitor is designed for sensitive patients.
It's also Radiometer's most intuitive solution for transcutaneous monitoring, focusing on supporting streamlined workflows in the busy special care environment.
Real-time trending measurements are easy to read on the color touchscreen display, and built-in interactive tutorials and straightforward messages simplify both daily operation and troubleshooting.
Whenever the caregiver returns a sensor to the calibration chamber, it is automatically and individually calibrated, reducing both preparation and maintenance time as well as improving the daily workflow.
The unique gold-plated sensors offer high reliability of results even after prolonged usage, and each sensor's remembraning interval is extended to up to 28 days, freeing up valuable time for caregivers.
Data can be stored, shared and managed easily with advanced connectivity features to major patient monitoring systems, and the TCM5 FLEX monitor works with Radiometer's AQURE TC ResQ software solution.
An integrated data memory, storing up to 1 year of continuous measurement data, lets you download patient results to a PC or export them via USB.
Designing the transcutaneous ventilation and saturation monitor
Easy to use, intuitive and smart were the keywords our user studies concluded as the cornerstones of the transcutaneous monitor. Watch the video of how the TCM5 monitor was designed as the perfect fit.
Find out more about transcutaneous monitoring
Transcutaneous monitoring in the NICU
Transcutaneous monitoring
TCM5 BASIC monitor
AQURE TC ResQ software
Radiometer launches the next generation of transcutaneous monitoring
Related on-demand webinars
Combining blood gas invasive and non-invasive monitoring for the best care of our neonates
Presented by Dr. Kaare E. Lundstrøm
TC monitoring in NICU - the value of tcpO2
Presented by Daniele De Luca (MD,PhD)
---