WHINN- Week of Health and INNovation 2017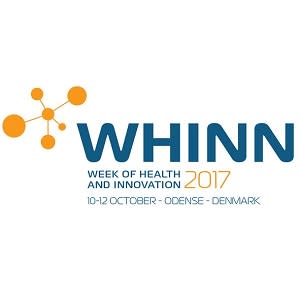 Exhibit
Symposia
Workshops
Organiser
Sponsor
WHINN - Week of Health and INNovation is a healthcare and health innovative festival. A platform which attracts business people, decision makers, politicians, clinicians, end-users and people with general interest in healthcare and health innovation.
WHINN is about innovation, new technologies and sustainable solutions, values that are also at the heart of the progress, that the city of Odense is experiencing right now.

Do you have issues on how to register for WHINN?
See this small tutorial and see how to register.



Travel

WHINN is based in Odense, Denmark. Odense is easily accessed if you travel by plane or train.
Plane and train
There are 2 international airports to reach Odense



Billund Airport which is situated approx. 100 km from Odense. From there you can go by bus or taxi from Billund to Vejle and then take the train from there to Odense. The price for bus and train is approx. 25 €. The price for taxi to Vejle and then train to Odense is approx .€ 95. Look at Billund Airports website for futher information regarding bus schedule


Copenhagen Airport which is situated 165 km from Odense. You can go by train from Copenhagen Airport directly to Odense. The price for the train is approx. € 45.



Car
Getting to Odense by car is very easy. Follow E 45 on the highway from south and turn to E20.
Odense C is exit no 52 when you arrive from west. If you arrive from East please use the exit no 48.
Accommodation
We have several hotels in Odense from where you can book your stay during WHINN - Week of Health and INNovation.
Some of Keynote speakers at WHINN
More events