The American Society of Breast Surgeons Annual Meeting 2019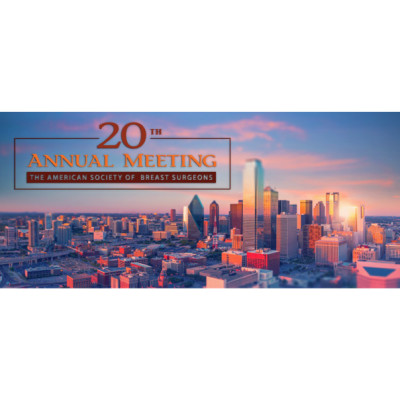 Symposia
Workshops
Organiser
Sponsor
Mark your calendar now for the society's 20th Annual Meeting
EXPANDED PRE-MEETING PROGRAM: This year's pre-meeting program will begin on Tuesday, April 30th and will feature hands-on courses in oncoplastic surgery, breast ultrasound, stereotactic breast biopsy, and techniques for prevention and management of lymphedema as well as expanded course offerings on a variety of topics listed below.
Tuesday, April 30
Beginner Oncoplastic Surgery Skills Course with Cadaver Lab
Intermediate Oncoplastic Surgery Skills Course with Cadaver Lab

Wednesday, May 1
Advanced Coding and Documentation
Basic Coding and Documentation
Genetics Primer for Breast Surgeons
Stereotactic Breast Biopsy: An Introductory Course
Surgical Techniques for the Prevention and Management of Lymphedema: LYMPHA, S-LYMPHA, ARM, LN Transfer, etc.
Back to Basics Refresher: Imaging Interpretation of Mammography, Ultrasound, and Breast MRI (1/2 day AM)
Endocrine Therapy For Surgeons: Chemoprevention, Neoadjuvant, and Adjuvant Endocrine Therapy (1/2 day AM)
Percutaneous Ablation of Breast Cancer: Hands on Workshop (1/2 day PM)
Sustainability in Breast Surgery: Combating Physician Burnout (1/2 day PM)


Thursday, May 2
Breast Ultrasound: An Introductory Course
Integrative Approaches to Breast Cancer Survivorship
Surgical Techniques to Manage Benign and High Risk Breast Disease: How I Do It
Survivorship: How to Set Up a Survivorship Program that Fulfills ASCO, CoC and NAPBC Criteria
Advanced Breast Imaging: MBI, ABUS, Tomo, CE-MRI, Breast PET, Fast-MRI (1/2 day AM)
Fellows Track


Access to Dallas Will be Easy for Both U.S. and International Attendees
Dallas is served by 2 major airports—Dallas Love Field (DAL), which can be reached nonstop from more than 50 U.S. locations, and Dallas/Fort Worth International Airport (DFW), which can be reached nonstop from 200 domestic and 50 international locations. In fact, travelers from every major city in the continental United States can fly into Dallas within 4 hours.
We look forward to seeing you at #ASBrS19!
Programme is available here
Registration is available here
More events