103rd German X-ray Congress; Digital congress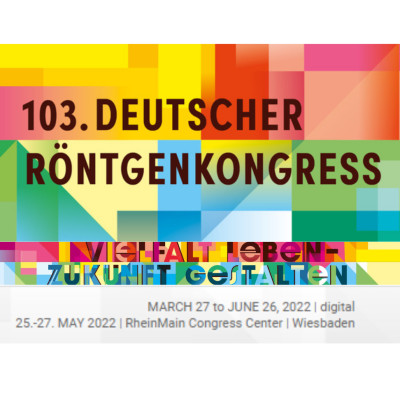 Hybrid Event
Exhibit
Symposia
Workshops
Organiser
Sponsor
Berlin, March 24, 2022. The German Roentgen Society (DRG) invites you to the 103rd German X-ray Congress: From March 27 to June 26, 2022, the participants can look forward to an extensive training and scientific program. This will be offered in a digital congress route as well as on three days of presence in the RheinMain CongressCenter in Wiesbaden (May 25 to 27, 2022). The motto of the congress is "Living diversity – Shaping the future". The main topics of the congress include diversity and sustainability in radiology as well as 50 years of computer tomography and interventional radiology. The President of the Congress is Dr. Kerstin Westphalen,
The opening weekend of the 103rd German X-ray Congress
On March 26 and 27, 2022, the congress will start with digital events that are freely accessible to all interested parties on these two days. The program begins on Saturday, March 26, 2022, at 3:30 p.m. with a warm-up and technical sessions on the subjects of the abdomen and cardiac imaging. The Eugenie and Felix Wachsmann Prize 2022 will then be awarded by the DRG for special merits in radiological training. Another highlight of this first day will be a studio talk, which Congress President Dr. Kerstin Westphalen with the DRG President Prof. Dr. Jörg Barkhausen and the chairman of the Academy for Advanced and Advanced Training in Radiology, Prof. Dr. Michael Uder, leads. Sunday, March 27, 2022 will begin with a highlight session on female pelvic imaging.
Here
is the program of the congress.
More events