International Federation for the Surgery of Obesity & Metabolic Disorders (IFSO) Congress
Exhibit
Symposia
Workshops
Organiser
Sponsor
ABOUT IFSO
The International Federation for the Surgery of Obesity and Metabolic Disorders (IFSO) is a federation composed of 63 official national associations of bariatric surgeons and individual members.
IFSO's Mission is to Unify the Global Scientific, Surgical and Integrated Health Communities, for the Purpose of Dissemination of Knowledge, Collaboration and Establishing Universal Standards of Care for the Treatment of Individuals with Adiposity-Based Chronic Disease.
The main goal of IFSO is the optimisation of the treatment of severely obese patients bringing together surgeons and allied health professionals. IFSO is committed to the creation of a global system for accreditation of bariatric centres and individual surgeons.
IFSO's main activity is the organization of the yearly World Congress, which provides a forum to exchange knowledge on surgical treatment of severely obese patients, to present new techniques, research and concepts, and to meet the experts in the field.
CONGRESS 2018
23rd World Congress of the International Federation for the Surgery of Obesity and Metabolic Disorders (IFSO) will be held during Sep 26 - Sep 28, 2018 in Dubai, United Arab Emirates.
IFSO 2018 in Dubai will bring together world leaders in metabolic and bariatric surgery to educate, discuss and collaborate. The committee is planning a superb scientific programme that promises a unique opportunity for all those interested in obesity and metabolic surgery to share their experiences, expertise and knowledge and seek practical solutions in their search to eradicate and manage this epidemic. With an emphasis on integrated health and on surgical treatment strategies, participants can look forward to multiple symposia and numerous oral, video and live operating sessions. This is set to be a great meeting.
WHY ATTEND
Pre-congress courses including the 6th International Conference on Sleeve Gastrectomy

Video and operating sessions discussing technical aspects and management of complications

Sessions about established operative, endoscopic as well as novel procedures for weight loss and type 2 diabetes

Multidisciplinary symposia with physicians, psychologists, anaesthetists, plastic surgeons, dieticians and primary care doctors

S

ymposia about special patient groups including adolescents and young adults, pregnant women who have had surgery and older patients

I

nnovative sessions including the use of technology in obesity and bariatric surgery, medicolegal issues and the impact of bariatric tourism

N

etworking lunches for Integrated Health Professionals, Young IFSO members and Women in Bariatric Surgery

'

Meet the Expert' lunchtime sessions

European, Latin American, Asia Pacific, North American and Pan-Arab Symposia

P

atient engagement session
IMPORTANT DATES
Abstract submission opens -
Now Open
Registration opens -
J
anuary 2018
Abstract submission ends -
1st April 2018
End of early bird registration -
1
st June 2018
Full programme available here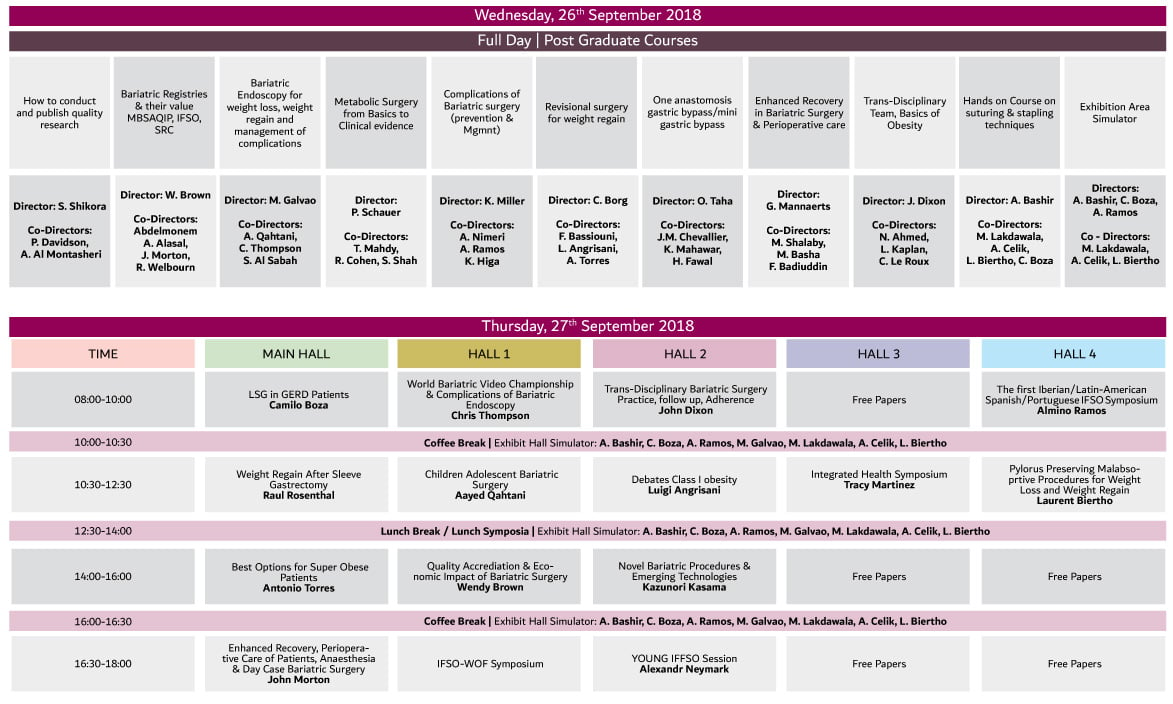 More events