International Conference On Traditional Medicine and Ethnomedicine Research 2021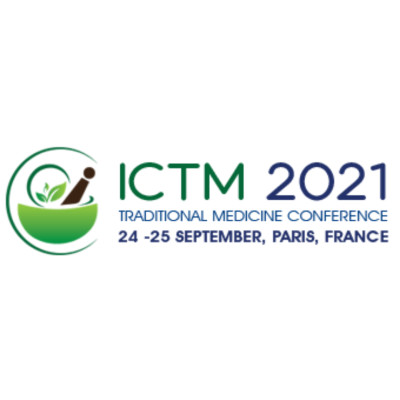 Exhibit
Symposia
Workshops
Organiser
Sponsor
Magnus Group is excited to organize the "2nd Edition of International Conference on Traditional Medicine, Ethnomedicine and Natural Therapies" during September 24 -25, 2021 at Paris, France with the theme "Cure with Nature".
ICTM 2021 aims to diminish the communication gap between researchers that acts as a pebble in dissemination of research knowledge. It encourages the scientists and research scholars to present and globalize their research that would lead to innovative pathways of natural healing for improved holistic health and well-being. Traditional and Ethnomedicine have left a significant impact on healthcare through centuries.
Nature has a cure for every disease. The enthusiastic and ambidextrous group of alternative medicine practitioners dedicate their valuable time in the field of research to decode every remedy the Mother Nature holds for different ailments. They strive hard to improve the healthcare by evoking the traditional forgotten remedies and discovering the deep hidden secrets of healing with Traditional Medicine, Ethnomedicine and Natural Therapies along with their innovative research ideas and findings. And we are here to distinguish and welcome those enthusiastic researchers' unremarkable efforts and their contribution to overall healthcare.
Scope of the Conference:
Traditional Medicine Conference 2021 wrapped with rich scientific sessions aims at not only sharing the knowledge but also focuses on bringing everyone together for fruitful networking which in turn offers improved career growth. At ICTM 2021 you can meet the experts in traditional medicine and ethnomedicine, dedicated professionals, professors, scientists and young scholars who share the same area of interest, making the research distribution easy and convenient where each minute is entrenched with inspiring and joyful learning.

Traditional medicine conference 2021 hosts inspiring keynote sessions and rich oral and poster presentations. The International conference on Traditional Medicine, Ethnomedicine and Natural Therapies also offers terrific sponsorship and exhibition opportunities to showcase your innovative products and services on the international platform.
ICTM 2021 Organizing Committee remains vigilant in monitoring the COVID-19 pandemic and this event is planned as hybrid format with both onsite and virtual versions and will allow participants who, for a variety of reasons, can't be able to join the in-person conference in France. We believe that our decision will allow many more people to participate in ICTM 2021.
Programme Available Online here
Registration Available Online here
More events