Healthio 2017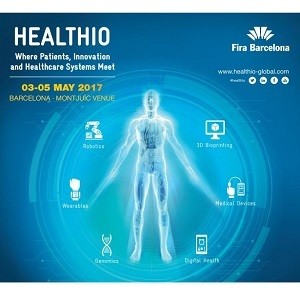 HEALTHIO and Health2.0 Europe are co-located Events
Find HEALTHIO Global on Social Media 
Exhibit
Symposia
Workshops
Organiser
Sponsor
Healthio: Where Patients, Innovation and Health Care Systems Meet

The empowerment of patients and citizens is at the center of many well-intentioned reforms and policies at government level. However, this idea has not yet been properly implemented so that it translates into real change. Health innovations can facilitate this paradigm shift, becoming one of the indispensable elements of putting patient health outcomes at the center of healthcare.
Healthio offers a new opportunity for the collectiveempowerment of the Patient and the Healthcare Provider by presenting new innovations that aim to achieve better health outcomes and help to solve the healthcare challenges of today and tomorrow.

Why should you come to Healthio?
At Healthio you will have the opportunity to try out, experience and engage with current healthcare innovations targeting four key areas of our lifespan: Well-Being, Personalized Medicine, Chronic Diseases and Aging.
As a citizen or a patient, a dedicated area called Health Living Lab has been created full of exciting, carefully curated itineraries developed by healthcare and innovation experts to guide your explorative journey through the innovations being presented according to specific topics such as:
o Tracking your health
o Simplifying the control of diabetes
o What can genomics do for you now?
o Personalized rehabilitation
o And more.
As a healthcare provider or professional related to the healthcare industry, you will have the opportunity to discover and test out new healthcare innovations in the Hospital of the Future zone where you will also have a chance to share your thoughts with innovators on what the Hospital of the Future should look like. You will also get access to the Live Operations zone where surgeries will be streaming live from selected hospitals to show you innovations in action.
As an
innovator
or professional working in an innovative company, you will have the chance to see what other exciting innovations are on the market, discuss your innovative products with healthcare providers, patients and citizens all in one place, whether one-on-one in dedicated networking areas, or in live debates and talks, with the opportunity to get insightful feedback and input on your products with the hopes of fostering a co-design process.


What is HEALTHIO?
The new HEALTHIO will have a totally innovative format compared to other healthcare trade shows in that it will have a practical demonstration zone, known as the HEALTHIO Arena, where participants can follow different routes with many interactive activities.
Healthio is a unique arena where patients, doctors, nurses, healthcare workers, caregivers, companies, institutions and associations see and experience the latest healthcare innovations
The HEALTHIO arena is divided into specialized areas with activities which include product demonstration and testing, talks and discussions and business meetings
HEALTHIO is an opportunity to present ground-breaking yet real solutions for a changing world to the healthcare sectors influencers, innovators and decision makers.
Healthio Advantages
Participants experience, try and touch the healthcare of the future

Disruptive brand activation format: the patients is in the center and gives feedback on the latest products

Innovations targets all types of healthcare stakeholders and key players, including hospitals and government

Reinforce brand perception by taking part in a new concept of healthcare arena

Be associated with the most innovative companies and the most powerful influencers

Brand positioning in areas where healthcare business will be done in the future

Enjoy continued brand visibility before, during and after the event

Achieve major coverage in traditional and digital media

Exhibition Hours
3 and 4 May 2017: 9.30 am - 19.30 pm (GMT+1)
5 May 2017: 9.30 am - 18.00 pm (GMT+1)
Us this code 82058E79 to register
Find All The Hotel Booking Information Here


FROM THE AIRPORT
TMB Line 46 ("Pl. Espanya - FGC" stop)
Train: R2 North (Renfe), "Barcelona-Sants" station
Airport bus: direct connection to the venue. Route
By road:15 kilometres away (C-31)
Metro: L3, L1 ("Espanya" station)
FROM SANTS STATION
Bus: Lines V 7 and109 ("Plaça Espanya" stop)
Metro: L3 ("Espanya" station)
On foot: 15 minutes along "Calle Tarragona"
Ferrocarrils Generalitat de Catalunya (FGC): Lines S8, S33, R6, R5, S4 ("Espanya" station)
More events