EHFG 2021: Rise Like A Phoenix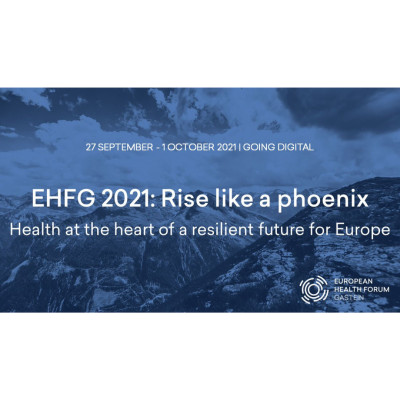 Exhibit
Symposia
Workshops
Organiser
Sponsor
Rise like a phoenix
Health at the heart of a resilient future for Europe
Health, solidarity and equity are a crucial foundation for social stability and prosperity, impacting all other areas of life. Never has this been more apparent than during the COVID-19 pandemic, which over the course of the last year has upended our lives and radically altered the European political landscape.
It is equally evident how damaging a loss of solidarity and the neglect of health as a crucial policy area can be. Delayed, individualistic and protectionist approaches to the pandemic have had a devastating impact on Europeans everywhere, resulting in catastrophic loss of life and livelihood.
While we continue to fight fires on numerous fronts, amidst the ashes of this unprecedented crisis there lies an opportunity for renewal and rebirth.
Health is having a rare moment in the political spotlight. As we tackle the effects of the pandemic and adapt to an uncertain future, we must take this opportunity to drive forward holistic action on the root causes and systemic failings that have allowed the virus to flourish.
We must fight for solidarity and equity, within Europe and on the global stage, and define improved models of collaboration that can transform the grim lessons learned into sustainable strategies for a better tomorrow. It is time to level up!
As we build resilience to prevail over current and future challenges, we need to jointly invest in harmonised systems of health and social care that will deliver consistently for each and every European, no matter who they are or where they live. Only with health at the heart of our recovery can Europe rise like a phoenix from this crisis stronger, smarter, and more equitable.
Programme Available Online here
Registration Available Online here
More events