30th World Nursing Care Congress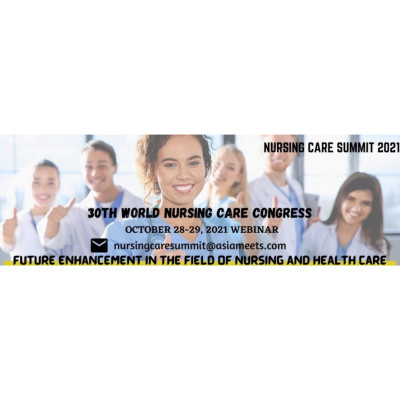 Exhibit
Symposia
Workshops
Organiser
Sponsor
Conference Series LLC Ltd. invites all participants to attend 30th World Nursing Care Congress (Nursing Care Summit 2021) which is scheduled during October 28-29, 2021 as a WEBINAR. This Conference focuses around the theme "Future Enhancement in the Field of Nursing and Health Care."
Nursing Care Summit 2021 Webinar is one of the largest international meetings on Nursing Care. With more than 100 Registered Nurses such as nurse practitioners, clinical nurse specialists, nurse anesthetists, nurse midwives, and nurse consultants, along with researchers, educators, administrators, policy makers and students expected to attend the conference. Nursing Care Summit 2021 Webinar promises to be an exciting and rewarding opportunity to learn together.
We are honored to host high-profile keynote speakers from around the world as well as many concurrent oral and poster presentations on key health issues and advances in healthcare from conference participants.
Nursing Care Summit 2021 is one of the Nursing meetings which will be visited by all the Prestigious Nurses, Nurse Practitioner, Registered Nurses, Nursing Postgraduates, affiliations, Healthcare Doctors, and Healthcare specialists under a solitary rooftop. Nursing Care Summit 2021 will help in frameworks organization, B2B teaming up amidst specialists and academicians. We have dealt with various compelling Nursing events and Healthcare gatherings and develop incredible relations bringing the researchers and associations together.
ConferenceSeries LLC Ltd deals with a meeting course of action of 1000+ Global Events thorough of 300+ Conferences, 500+ Upcoming and Previous Symposiums and Workshops in USA, Europe and Asia with sponsorship from 1000 more sensible social requests and disseminates 700+ Open get to journals which contains more than 30000 unmistakable personalities, reputed specialists as article board people.
Programme Will Be Available Online here
Registration Available Online here
More events