13th World Congress on Breast Cancer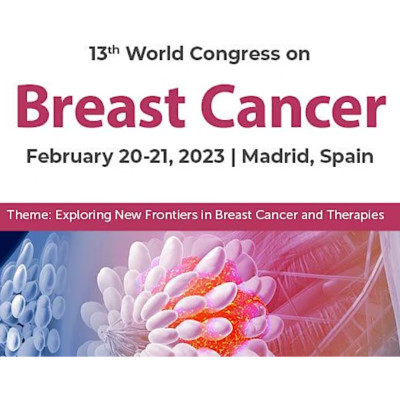 Exhibit
Symposia
Workshops
Organiser
Sponsor
Welcome to the 13th World Congress on Breast Cancer 2023 Scheduled during February 20-21, 2023 in Madrid, Spain.
Breast Cancer 2023 Congress in Madrid, Spain has been designed in an interdisciplinary manner with a multitude of tracks to choose from every segment and provides you with a unique opportunity to meet up with peers from both industry and academia and establish a scientific network between them. We cordially invite all concerned people to come join us at our Congress and make it successful by your participation.
Breast Cancer 2023 is one of the Worlds largest Congress on Breast Cancer and Therapies. Radiologists, Radiation Oncologists, Radiation Therapists, Medical Oncologists and Breast Care Nurses along with researchers, educators, administrators, policy makers and students expected to attend the conference. Breast Cancer 2023 promises to be an exciting and rewarding opportunity to learn together.
We are honored to host high-profile Keynote Speakers from around the world as well as many concurrent oral and poster presentations i.e. robust scientific programs on key health issues and advances in Breast Cancer therapies from conference participants.
OUR OBJECTIVES
To provide a platform for education, interaction and innovation
To facilitate the breast cancer community to meet and discuss issues and challenges
To update the community on recent results and concepts
To critically review new information so that breast cancer specialists can integrate it into daily practice
To promote academic skills in young specialists
WHO CAN ATTEND
Breast Cancer Surgeons
Breast Cancer Pathologists
Radiation Oncologist
Radiation Therapist
Breast Care Nurse
Reconstructive (plastic) Surgeon
Healthcare Associations and Societies
Breast Cancer Faculty
REASONS TO ATTEND
It is a truly multidisciplinary conference.
It enables deep engagement from all specialists including patients and patient advocates.
It's a way to interact with peers, to build your professional network and to create friendship with delegates from all around the world.
Academic
Speaker Registration: € 499
Delegate Registration: € 399
Package- A: € 799
Package- B: € 949
Special issue Publication+ Registration: € 2270
Regular Issue Publication + Registration: € 2102
Business
Speaker Registration: € 599
Delegate Registration: € 549
Package- A: € 899
Package- B: € 1049
Special issue Publication+ Registration: € 2354
Regular Issue Publication + Registration: € 2190
Student
Student Delegate: € 299
Young Researcher`s Forum: € 399
Poster Presentation: € 349
E-Poster: € 99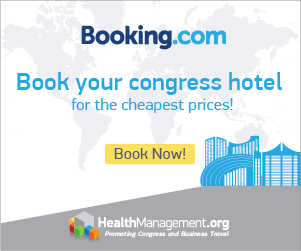 More events