87th Annual Conference of the DGK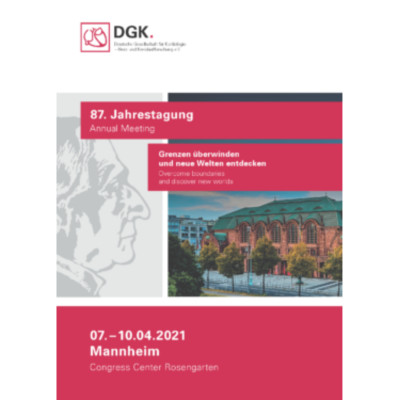 Exhibit
Symposia
Workshops
Organiser
Sponsor
The 87th annual meeting of the DGK under the motto "" Overcoming borders and discovering new worlds "will take place live and online in Mannheim from April 7th to 10th, 2021.
It is currently planned that the chairpersons of the sessions in Mannheim will be present and moderate the sessions as usual in order to guarantee an interactive congress atmosphere. All other members of the faculty - speakers, experts and discussants - are connected online. All sessions are broadcast live and are then available on demand.
If the situation improves significantly by the annual conference and fewer measures to contain it are necessary, a gradual expansion of attendance is planned: In a first stage, the other faculty members will be on site together with the chairperson; in a further stage, the congress can be held as Hybrid event with a limited number of visitors will take place on site and will be broadcast online at the same time.
Programme Available Online here
Registration Available Online here
More events