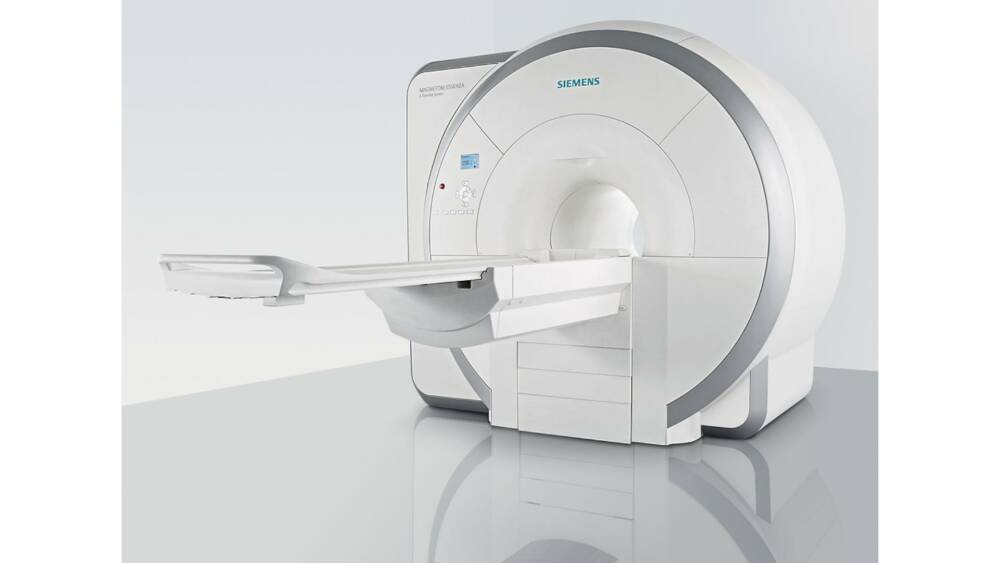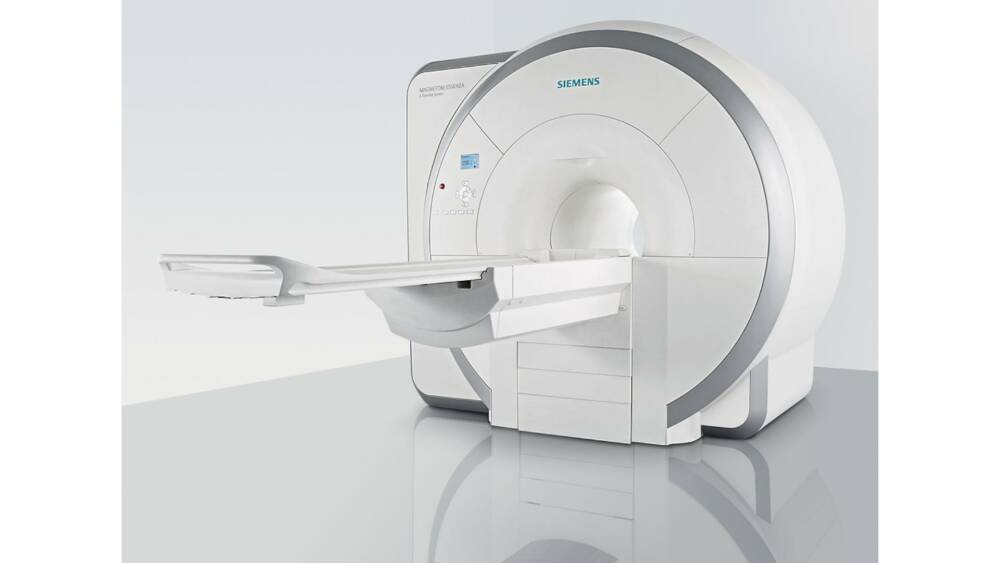 MAGNETOM ESSENZA
Established 1.5T performance. With Tim+Dot.
The new MAGNETOM ESSENZA with Tim+Dot. Whether you want to start your MRI business, increase your number of patients or enlarge your clinical scope. MAGNETOM ESSENZA with Tim+ Dot is a most user-friendly, clinically versatile and economically attractive scanner.
Features & Benefits
MAGNETOM ESSENZA 1.5T - A Tim+Dot System. Built on the experience of more than 1.000 customers, it will help you to be even more productive, more versatile, and more confident in your daily MRI practice.
More productivity. With Tim+Dot.
Introducing Dot® to MAGNETOM ESSENZA perfectly complements this 1.5T MRI scanners outstanding Tim® performance. Making an already highly productive 1.5 Tesla machine even more efficient and easy-to-use.
Dot. The next movement in MRI.
Dot is a new way of scanning in MRI – a better way. Dot scanning uses a suite of customizable engines. Allowing the user to personalize exams according to patient needs, build in step-by-step user guidance, and automate MRI exams – either "out of the box" or based on the institution's standards.
Ease-of-use
Dot. Taking the complexity out of MRI.
Manage even complex exam routines with ease
Use pre-defined exam strategies (Dot protocols)
Easily adapt exam strategies to patient specific condition
Be guided step-by-step, even through complicated exams
Easy and synchronized timing with Auto Bolus Detection
Standardization
Dot. A new level of consistency and reproducibility.
Intelligent, automated workflows for image consistency and diagnostic confidence
Complete scans with virtually no manual adjustments, enabling high reproducibility
Workflows customizable to your standards
Easy, consistent follow-up exams, supported by automatic slice positioning & FoV estimation
Productivity
Intelligent, automated workflows enable a whole new level of efficiency
Fast scan setup with only a few clicks, supported e.g. by an automated FoV or navigator positioning
Automated post-processing with automatic, predefined inline technologies
Higher reproducibility and more accurate timing, reducing the need of scan repetitions
Flexibility
Select exams, not coils
8 or 16 RF channels for up to 46 matrix coil elements
Head-to-toe imaging without patient repositioning
Accuracy
Local and total imaging from head to toe, while maintaining a high SNR
Excellent image quality with high coil density
Seamless scan range of up to 140 cm with excellent image quality
Speed
Utilize parallel imaging (iPAT) in all directions
High acquisition speed, high resolution
Shorter examination times allow increased throughput
Together. Tim+Dot redifine productivity - with an increase of up to 50%2.
Extended productivity at 16-channels.
Up to 4 coils simultaneously, up to 46 elements. The new 16-channel system with the new 16-channel Head/Neck coil enables more flexibility and higher productivity.
Higher flexibility
Seamless combination of up to 4 Matrix coils with up to 46 coil elements
More coverage with the integrated IsoCenter Matrix, 16-channel Head/Neck coil and up to two Body Matrix coils
Easier coil handling with combined Head/Neck parts and comfortable release mechanism
Keep the posterior part of the 16-Channel Head/Neck on the patient table for any abdominal exam
Upgraded imaging and iPAT performance
Twice the number of elements (12 instead of 6) in the head region for improved GRAPPA performance
Higher performance in abdominal imaging with IsoCenter Matrix and up to 2 Body matrix coils
Access to the optional 14-ch Extremity coil3 for advanced iPAT capabilities in any direction and improved B1 performance with iTX
More confidence
Outstanding SNR with the 16-ch Head/Neck coil
Complete coverage of the Head/Neck region
Excellent image quality, in combination with the integrated IsoCenter Matrix coil, for example in C-Spine imaging
More applications. From head to toe.
MAGNETOM ESSENZA delivers outstanding image quality from head to toe. Now based on the latest Siemens Healthineers MR software platform, MAGNETOM ESSENZA provides access to more standard and advanced applications than ever before.
Broaden your clinical scope. With the new MAGNETOM ESSENZA – A Tim+Dot system, you also have access to advanced, cutting-edge applications like:
CAIPIRINHA: The powerful next generation iPAT application for up to 50%2 faster imaging
syngo BLADE: Robust, motion-insensitive imaging for excellent imaging results even for non-cooperative patients, can be used in head, spine, abdomen, and other body regions
3D DESS: T2/T1- weighted, high resolution cartilage imaging
3D CISS: Excellent visualization of fine structures such as cranial nerve, high resolution imaging of inner ear and spine
Inline Diffusion: Automatic real-time calculation of trace-weighted images and ADC maps with Inline Technology for stoke imaging and tumor differentiation in head and body applications
More confidence. Through sustainable value
With MAGNETOM ESSENZA value for money meets sustainability. Along the complete lifecycle you benefit from the latest technology and system design. Be more efficient and productive than ever before, at a highly attractive total cost of ownership (TCO).
Outstanding TCO (Total Cost of Ownership)
Low installation requirements with short system design
Lowest operating costs in class with minimal power consumption2
State-of-the-art zero helium boil-off technology
More Information Here
Maximum number of channels6
Number of independent receiver channels that can be used simultaneously in one single scan and in one single FoV, each generating an independent partial image
V-engine (30 mT/m @ 100 T/m/s)
Zero Helium boil-off technology
---