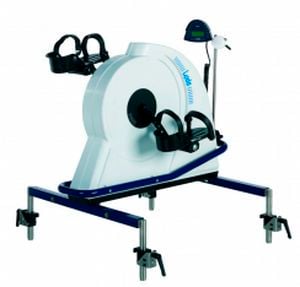 Lower limbs ergometer pedal exerciser 30 - 150 rpm, 750 - 1000 W Lode
30 - 150 rpm, 750 - 1000 W
The Angio provided in this system comes with a muti functional fixation set, where the Angio ergometer can be easily affixed to all physiotherapy, and imaging tables, which are equipped with a 25 x 10 mm side rail. The unit can be adjusted between 580 to 860 mm in width and 20 to 120 mm in length and ships with a RPM/Watt meter and pedal shoes. It can be used in a number fo medical environments to include supine and arm ergometry and features a compact deign that makes it an excellent fit in limited spaces.
---