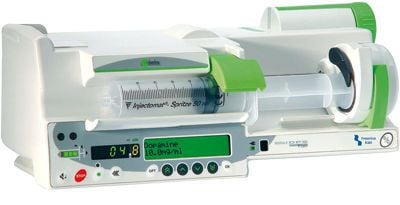 1 channel syringe pump / modular 0.1 - 1200 ml/h | Orchestra® Module DPS Visio Fresenius Kabi
0.1 - 1200 ml/h | Orchestra® Module DPS Visio
Module DPS VISIO integrates with Orchestra workstation and can be connected to BA Intensive, Base Primea and Base A. Two infusion modes allow you to choose between mass infusion units' mode or volume per hour mode. Store up to 50 drug concentrations in the drug library. DPS VISIO has a rate ranging from 0.1 to 1200 ml/h with an accuracy flow rate of ± 2% on syringes and ± 1% on the drive mechanism. The automatic volume detection in the syringe ranges from 5 to 60 ml. 5, 10, 20, 30/35, 50/60 ml. Safety ensured with hands free bolus, line disconnect alarm, occulation alarm and pressure management. DPS monitors pressure increase/decrease in line monitoring. At 5 ml/h battery will last a minimum of 7 hours.
Number of channels:1 channel
Other characteristics:modular
× × × × × × × × × × × × × ×
× × × × × × × ×
---