Swiss eHealth Summit 2014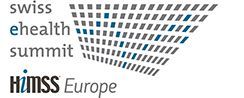 Exhibit
Symposia
Workshops
Organiser
Sponsor
Division of Medical Information Sciences, University Hospitals of Geneva, President SSMI
Univ.-Prof. Elske Ammenwerth
Direktorin Institut für Medizinische Informatik
UMIT - University for Health Sciences, Medical Informatics and Technology, Hall in Tirol
"Evidenz-basierte Medizinische Informatik: Wie wissen wir, was wir wissen?"
Dr. Marie-Catherine Beuscart-Zéphir
Human Factors and e-health
Evalab, INSERM CIC-IT Lille, CHU Lille, France
"Importance (and examples) of human factors engineering in healthcare?"
"Regional eHealth ecosystems"
KF & Co-Leitung Certificate of Advanced Studies Program eHealth
"Transhumanism, ambient assisted living"
Jan-Eric Slot, MB MSc MBA
Chief Executive Officer, International Health
Terminology Standards Development Organisation, Denmark
"Impact of SnoMed on eHealth-Solutions in practice"
Facharzt für allgemeine Chirurgie FMH, Mitglied Zentralvorstand FMH
"Integrierte Versorgung und eHealth: die FMH Perspektive"
Chief Medical Information Officer,
Nuance Communications, Burlington USA
"From graphical user interface to conversational user interface"
More events