ICT 2020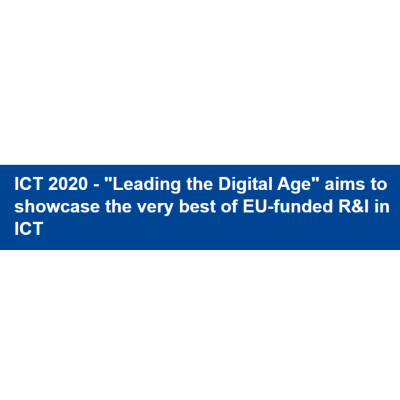 EVENT HAS BEEN POSTPONED TO 2021 DUE TO COVID-19 HEALTH CONCERNS
NEW DATES TBC
Find Digital Single Market on Social Media
Exhibit
Symposia
Workshops
Organiser
Sponsor
From 1 to 3 December 2020, ICT 2020 - "Leading the Digital Age" will take place in Koelnmesse in Cologne, Germany. Along with Conference and Networking sessions, the event will host a huge exhibition space. 8000 m² will be allocated to more than 100 exhibitors to showcase the very best of the last 7 years of EU funded Research and Innovation in the field of ICT. It is the flagship event of the European Commission's Directorate-General for Communications Networks, Content and Technology (DG CONNECT).
ICT 2020 - "Leading the Digital Age" comes with sufficient space to exhibit the very best of seven years of research, innovation and deployment funded by the European Commission in the field of ICT. Finished and nearly finished projects are welcomed to apply for a spot at the Exhibition, which will accompany a High-Level Conference, Topic and Parallel sessions, as well as multiple Networking sessions. In particular, the event will mark the end of the current funding programme Horizon 2020 and the beginning of Horizon Europe and the Digital Europe Programme.
The Exhibition will include all possible domains related to Digital Innovation: from Artificial Intelligence, HPC, Cybersecurity, Block-chain, Robotics, Data, Photonics, Cloud, 5G, Next Generation Internet (NGI) to applications in eHealth, eGovernment, IoT, Digital Skills, Digital Public Services, Connected and Automated Driving, Manufacturing, Media, Digital Cultural Heritage and many more.
All EU-funded projects in the field of Digital are invited to apply, regardless of their funding programme. A special place will be dedicated to projects and innovations created in Cooperation with the EU's International partners, as well as to other EC initiatives, such as ERDF, CEF, Ideal-IST, IPR Helpdesk, MEDIA programme, Public-Private Partnerships and Flagship initiatives. A special stage within the exhibition area will give exhibitors the opportunity to present their results and innovations. It will also host an awards ceremony for the best booths across the various categories on the last day of the event.
So, if your EU-funded project displayed remarkable results, brought digital innovation to new frontiers, contributed to expand any technological field available today or made an impressive impact on people's lives and our society, go ahead...
Programme available online soon...
Registration available online soon...
More events