ICCMIT 2016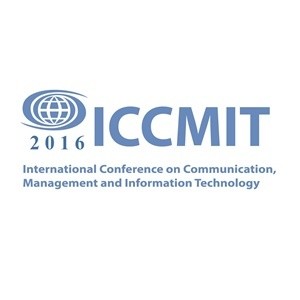 Welcome to the International Conference on Communication, Management and Information Technology (ICCMIT 2016). The conference ICCMIT'16 organized by the Universal Society of Applied Research (USAR). The International Conference on Communication, Management and Information Technology (ICCMIT 2016) aims to bring together researchers, scientists, engineers, and scholar students to exchange and share their experiences, new ideas, and research results about all aspects of Computer Science and Systems, Communication, and Management, and discuss various practical problems and challenges encountered as well as the solutions adopted.
Exhibit
Symposia
Workshops
Organiser
Sponsor
ICCMIT'16 International Conference is an annual meeting for scientists, engineers and the academy staff of the universities belongings to discuss the latest discoveries and realizations in the foundations, theory, models and applications of nature inspired systems, and emerging areas related to the three tracks of ICCMIT`16 conference covering all the fields of communication Engineering, Management, and Information Technology in a technology panels given by world-class speakers and workshops.
Important Dates:
F

ull paper submitted for revision in electronic form:
March 1, 2016
Notification of acceptance:
March 14, 2016
Conference registration:
March 30, 2016
Final paper submission and authors camera ready:
April

10, 2016

Conference Dates:
April 26-29, 2016
SUBMISSION….
Papers should be prepared and written in English. All papers should be submitted according to ICCMIT Paper Format, and should be submitted online before March 1, 2016.
ORGANIZERS….
I- Universal Society for Applied Research (USAR), Czech Republic
www.universaljournals.org
II- The University of Calabria (Università della Calabria, UNICAL), Italy
III-The ITT Technical Institute (ITT), USA
IV-Institute of Advanced Studies in Communication (Iecom), Federal University of
Campina Grande, Brazil
PUBLICATION….
All accepted papers will be published by Tylor&Francis, and CRC press.
ICCMIT'16 CONFERENCE INDEXING
1. Thomson Reuters (ISI web of science).
2. Scopus
3.Compendex
4.Elsevier
The best articles will published in the following Scopus indexed journals:
1-Int. Journal of Mobile Network Design and Innovation
2-Int. Journal of Interdisciplinary Telecommunications and Networking
3- Int. Journal of Reasoning-based Intelligent Systems
IMPORTANCE OF PARTICIPATION IN ICCMIT'16…
All registered papers will be submitted to CRC Press Taylor&Francis for publication




T

he conference will be indexed in the biggest databases: ISI Thomson Reuters, Scopus, Elsevier and Engineering Index.




Best accepted papers will be published in three respective SCOPUS Journals with Impact Factor




Selected best articles will be invited to be expanded and become book chapter in Big publishing houses




Chance of B2B meeting




Privileges on group registrations




Chance to organize Workshop/Symposium




Chance to organize special session




30% discount for author of two accepted paper




25 % discount of attendance fees and 10% of registration fees for PhD and M.Sc participants.



1. All authors of the accepted papers should register to attend the conference.
2. Participants who have no accepted papers can also register to attend the conference as attendant.
3. All registrations associated with accepted papers should be made before 15 March, 2015.
4. Accepted papers will appear in the conference proceeding if the payment has been made and at least one author will present the paper at the conference.
5. All authors with accepted papers must submit their camera-ready version in PDF or MS-Word format to: [email protected] iccmit.net

6. Registration fee policy:
| | | |
| --- | --- | --- |
| Date of Payment: | Before/on March 15, 2016 | After March 15, 2016 |
| Full registration (Technical Paper): | Euro 500 | Euro 550 |
| Authors with two papers(Technical Papers): | Euro 800 | Euro 850 |
| Not-attending Authors (Virtual presentation): | Euro 400 | Euro 450 |
| Poster Paper: | Euro 250 | Euro 300 |
| Extended Abstract Paper: | Euro 250 | Euro 300 |
| Attendant: | Euro 350 | Euro 400 |
| One Workshop attendant: | Euro 100 | Euro 125 |
In order to pay your registration fees through wired bank transfer. kindly, use the following bank information:
Bank Name: Raiffesien Bank
Bank Address: Jalta, Václavské nám, 819/43, 11000, Praha 1, Prague, Czech Republic.
Account Name: Universal Society for Applied Research
Account No. : 4067871001/5500
Swift Code: RZBCCZPP
IBAN: CZ3155000000004067871001
IMIT
INTERNATIONAL Medical Informatics & Telemedicine
Meeting
In the frame of
International Conference on Communication, Management and Information Technology (ICCMIT2016) www.iccmit.net
April 26-29, 2016
University of Calabria, Cosenza, Italy
Topics
* Electronic medical record / personal health record
* Clinical and epidemiological data bases
* Hospital Information Systems (RIS, LIS, CIS,….)
* Multimedia intensive e-Health applications
* Medical images and bio-signal processing
* Health information systems and patient smart cards
* Global standards and interoperability in e-Health
* Bioethics and legal aspects in Health informatics
* Political and ethical philosophy of e-Health
* Health smart media apps: safety, privacy and security
* Internet in healthcare and medical web portals
* Web-based and Remote Medicine
* Global e-Health and web-based applications
* GRID and cloud computing for global e-Health
* European and International e-Health roadmaps
* EU program "Horizon 2020"
* Distance learning in healthcare
* Teleconsulting and telediagnosis
* Teleradiology, telecardiology, telepathology,…..
* Telemedicine in Emergency, natural disasters and war
* Telemedicine in Health Tourism
* Telemonitoring, telehomecare, telerehabilitation

* AAL, Assistive Technology, e-Health and inclusion
* Internet of Things, sensors and Biomedical devices
* Robotics in surgery and rehabilitation (exoskeleton)
* Virtual Reality, 3D printing and augmented reality
* Knowledge management, knowledge-based systems
*Semantic web and ontology in biomedicine
* Decision support and expert systems in medicine
* Medical Databanks, Databases and Knowledge Bases
* Bioinformatics and genomic data banks
*NeuriInformatics, neuroimaging and neuro computuing in Medicine
* Artificial Intelligence Techniques and cognitive brain processes
* Biostatistics, Data Analysis, statisticalsoftware and neural networks
* Data Mining and Knowledge Discovery in Medicine
* Machine Learning-based Medical Systems in Health Sciences.
* Personalized medicine and quality of medical care
* Medical and Health Technology Assessment
CALL FOR PAPERS (Deadline: March 30, 2016)
Scientific Committee

Chairs:
Francesco Sicurello, President of IITM, University of Milano-Bicocca, Italy
Abdel-Badeeh M. Salem, Ain Shams University, Egypt
Judita Kinkorova, Medical Faculty of Charles University in Pilsen, Czech Republic
Wojciech Glinkowski, Medical University of Warsaw, Poland
Enrico Maria Staderini, Western Switzerland University of Applied Sciences
Mohamed Abdalla, Former Senior Technical Advisor of ITU, Cairo, Egypt
Najeeb MohammedAl-Shorbaji, WHO Knowledge management and e-Health, Geneva Switzerland
Zoltán Alexin, University of Szeged, Hungary
Christian Axiak, Mater Dei Hospital, Malta
Essam Ayad, Italian Hospital in Cairo, University of Cairo, Egypt
Claudio Azzolini, University of Insubria, Hospital of Varese, Italy
Mihaela Badeea,University of Brasov, Romania
Ahmed Bahnassy, King Saud bin Abdulaziz for Health Sciences, Saudi Arabia
Sergio Bella, Children Hospital Bambin Gesù, Rome, City of Vatican
Ali Benafia, University of Batna, Algeria
Josephine Borrillo, Adv Telehealth, Buffalo USA
Luca Buccoliero, Bocconi University, Milan, Italy
Giovanni Buttigieg, European Commission – League of Arab States Liaison Office, Malta
Gianluca Castelnuovo, Catholic University & Auxologic Italian Institute, Milan, Italy
Angela Colantonio, University of Toronto, Canada
Sharon Condon, Rural Clinical School ,University of Tasmania, Australia
Lucio De Paolis, University of Salento, Lecce, Italy
Giuseppe De Pietro, National Council of Research – CNR/ICAR, Italy
Maria Luisa Ganadu, University of Sassari, Italy
Tatiana A. Gavrilova, St. Petersburg State University, Russia
Veska Georgieva, Technical University of Sofia, Bulgaria
Piermario Gerthoux, Vice-President of IITM/@ITIM Italy
Hassan Ghazal, University Mohammed First, Nador, Morocco
Maria Carla Gilardi, National Council of Research – CNR/IBFM, Italy
Amr Goneid, American University in Cairo, Egypt
Hugo Góngora Jara, Hospital Vera Barros, School of Medicine H.A. Barceló Foundation, La Rioja, Argentina
Kiyomu Ishikawa, University of Hiroshima, Japan
Klaus Kaiser,
Virtual International Pathology Institute,
Germany
Alda Kika, Faculty of Computer Science, University of Tirana, Albania
Roumen Kountchev, Technical University of Sofia, Bulgaria
Kidiyo Kpalma, National Institute of Applied Sciences of Rennes, France
Halina Kwasnicka, Wroclaw University of Technology, Poland
Anamarija Margan, Virtual Policlinic Cres island, Croatia
Sana Daya Marini, American University of Beirut, Lebanon
Urszula Markowska-Kaczmar, Wroclaw University of Technology, Poland
Giancarlo Mauri, University of Milan-Bicocca, Italy
Maite Mijares, Ecuadorian Foundation for Telemedicine & Ehealth, Quito, Ecuador
Luciano Milanesi, National Council of Research – CNR/ITB, Italy
Peter Millard, Emeritus Professor of Geriatrics, St. George's University of London, UK
Ioana Moisil, University of Sibiu, Romania
Valérie Monfort, Univ. Paris1 Panthéon Sorbonne, France
Josè Luis Monteagudo Pena, Instituto de Salud Carlos III- Madrid, Spain
Efstratia Mourtou, St.Andrew General Hospital, Patras, Greece
Alfredo Nicolosi, National Council of Research – CNR/ITB, Italy
Immacolata Pannone, Italian Ministry of Foreign Affairs, Italy
Gianni Pellicanò, @ITIM President, Careggi Hospital of Florence, Italy
Mohamed Wasim Raad, King Fahd University of Petroleum & Minerals, Dhahran, Saudi Arabia
Nouhad Rizk, University of Houston, USA
Mohamed Roushdy, Ain Shams University, Egypt
Nicoletta Sabadini, University of Insubria, Como, Italy
Eugenio Santoro, IRCCS-Mario Negri Institute of Pharmacology Research, Milan, Italy
Asma H Sbeih, PAU - Palestine University and Hospital, Bethlehem, Palestine
Christina Siontorou, University of Piraeus, Greece
Valery Stolyar, Russian Academy of Medical Sciences, Russia
Nikolay Tverdokhlebov, Russian Academy of Sciences, Moscow
JorgeVelez, Centre of Telemedicine, Cartagena, Colombia
Yukako Yagi, Massachusetts General Hospital, Harvard University Medical School, Boston, USA
Maria Zolfo, Institute of Tropical Medicine, Anvers, Belgium
More events