HIMSS Europe and Health 2.0 2018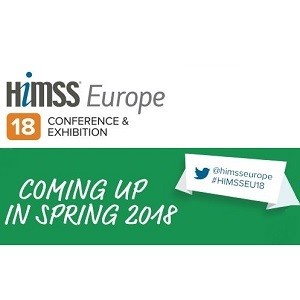 Symposia
Workshops
Organiser
Sponsor
HIMSS Europe and Health 2.0 are collocating the most influential digital health conference of 2018. HIMSS Europe 18 will be held on 27 – 29 May in the beautiful coastal Spanish town of Sitges, located just 25 minutes away from Barcelona. The conference will include sessions which will address the whole spectrum of the digital health ecosystem with the aim to reach key audiences in the sector: from hospital CEOs to innovative SMEs and start-ups, as well as CMOs, clinicians and nurses. Conference themes will include: digital transformation, cybersecurity, interoperability and data into knowledge.
In addition, HIMSS Europe 18 is honoured to be supported by the Dutch Ministry of Health, who will bring immense added value to the programme. The renowned European Telemedicine Conference (ETC) will also be featured in the conference, as well as a high-level C-suite workshop hosted by HIMSS-CHIME International.
HEALTH 2.0 EUROPE IS BIGGER THAN EVER!
Health 2.0 Europe is the annual gathering of digital health champions from all over Europe and overseas to explore international innovations in consumer health, patient care, digital healthcare technologies, big data and analytics, AI, wearable tech and engage with over 500 people like minded professionals from around the globe.
The conference is gathering the cutting edge and innovative solutions from up-and coming startups that will shake up the European and global healthcare scene in 2018. Watch over 50 rapid fire demos LIVE on stage, engage in meaningful conversations, and participate in game-changer workshops!
Full programme available here
Register online here
INTERESTED IN A COMBINED HIMSS/HEALTH 2.0 TICKET? Please note that the below rates are for the applicable conference only. There will be an option for you to upgrade your ticket to attend both conferences further down the process at a rate of 299EUR. This year's European Telemedicine Conference is co-locating with the HIMSS Europe 18 Conference and is included in its rates below.
GETTING TO THE CONFERENCE VENUE
The Melia Sitges Hotel is only 25km away from Barcelona airport. You may reach the venue by bus, train, or private transportation:
Bus: The "MonBus" leaves Terminal 1 every 30 minutes and will take you straight to Sitges (Parc Can Robert station). The hotel venue is then a 20 minute walk from here or 5 minute taxi ride away. Total travel time: ~1 hour.
Train: The trains leave from Terminal 2 and will require one stop over at "El Prat" station. From El Prat, take the Regional train R2S (direction Vilanova I la Geltru) and get off at Sitges Station. The hotel venue will be a 20 minute walk from here or 5 minute taxi ride away. Total travel time: ~1 hour.
Taxi: A taxi from the airport can vary between €60 - €75 on average (including tolls). Travel time: ~25 minutes.
Private transportation: If you are seeking private transportation options to and from the conference venue please contact Abaser at

[email protected]

or get in touch with Taxi VIP Barcelona[email protected]>
More events