Digital Health & Wellness Summit at Mobile World Congress 2016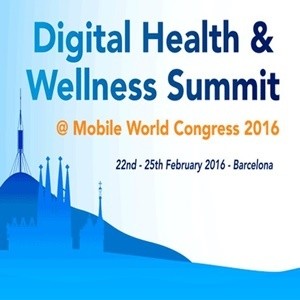 We are delighted to be leading the 3rd Digital Health & Wellness Summit programme at the Mobile World Congress 2016, Barcelona 22- 25 February 2016. Following the success of the 2015 event we know 2016 is going to be even more exciting.
Exhibit
Symposia
Workshops
Organiser
Sponsor
The European Connected Health Alliance is pleased to announce the Digital Health & Wellness Summit @Mobile World Congress 2016 (DHWS2016) in Barcelona 22 -24 February 2016.
After the success of the 2nd Health & Wellness @ Mobile World Congress 2015 we know 2016 is going to be even bigger and better.
The agenda so far:
Monday 22Feb for the first year the DHWS2016 will be at 4YFN with a conference dedicated to innovative start-ups/SMEs and investors.
Tuesday 23 Feb will be dedicated to interactive sessions and workshops.
Wednesday 24Feb will include a high level programme including international leaders in the health and wellness sector. It will be held in the heart of the Mobile World Congress at Fira Gran Via, Hall 8.0 Theatre F.
Thursday 25 Feb will be dedicated personalised sites visits & B2B meetings, inviting representatives from China, Canada,

USA

, Europe and over the world to meet each others and key leaders for digital health and mHealth in Catalonia.
Main topics of the programme:
- Mobile Health
- Internet of Things (IoT)
- Wearables
- Remote monitoring
- Active & Healthy Ageing
- Wellbeing
- Fitness & Sport
- Smart Cities
- Connected Living
- Health IT…
Be a part of the Investor Challenge Competition:
The aim is to invite start-ups, SMEs and entrepreneurs to present their project and connect with a panel of investors and experts benefiting from great exposure across the ECHAlliance community during Mobile World Congress 2016 in Barcelona.


Registration fees:
Event Registration Type



* Code required

Early Bird Fees

To 8 Jan 2016

Fees After

8 Jan 2016

Delegate Pass
1099 €
1199 €
Event Partners Pass *
699 €
799 €

ECHAlliance Alliance Partners Pass

*

e.g. not for profit orgs

699 €
799 €
ECHAlliance Member Pass *
e.g. Industry, etc
599 €
699 €

MWC

delegates

UPGRADE

Pass *


your

MWC

registration nº required

399 €
499 €
Event Speaker Pass*
n/a
n/a
Event Sponsor Pass *
n/a
n/a
Attendees have access to:
3 Days Digital Health & Wellness Summit @ Mobile World Congress 2016 Programme (Monday 22, Tuesday 23, Wednesday 24)
4 Days of exhibition at Mobile World Congress, Gran Via
4 Days 4YFN at Fira Montjüic
Day 1 - Monday 22ndFebruary 2016

(FIRA Montjuic, Plaça Espanya, Barcelona)




16:00






Digital Health & Wellness: a strategic sector for investors

1. Presentation of the 3 start-ups winners of the ECHAlliance Investors Challenge 2016

VOICEITT - Maren LESCHE, Advisor

IN YOUR ELEMENT - Leeann MONK, Founder & CEO

BE YOU - Abir MEHAWEJ, Founder & CEO

See presentations of the 3 winners HERE

2. Speed pitches by 3 more Digital health start-ups

See details here

3. Panel of Digital/mobile health investors

The investors will present their vision of the Digital/mobile health market, the current trends and the future of healthcare. They will as well explain their investment criteria, what they expect from start-ups and their current targets.

Moderator: Bleddyn REES, Digital Health Consultant and Lawyer at Osborne Clarke, Board Director at ECHAlliance

Min-Sung Sean KIM, Partner at XL HEALTH Venture Capital


Matthijs OOSTLANDER, Social Business Analyst at SHAERPA Fund Management




Followed by the 4YFN Networking reception with start-ups, leading industries and investors




Day 2 - Tuesday 23rd February 2016

(Mobile World Centre, Carrer de Fontanella 2, 08002 Barcelona)

9:15

Welcome, introduction

Brian O'CONNOR, Chair of ECHAlliance

Joan CORNET, Director of mHealth Competence Center at Mobile World Capital Barcelona

9:25

Political Keynote Address

Minister of Health Catalonia (TBC)


9:35

mHealth: should we regulate?

In different parts of the world (USA, Europe), governments and administrations are working jointly with industries, in order to define the regulatory environment around mobile apps and tools involved in health & wellness environment. Apps are mainly a B2C market, which escapes to the classic health regulatory environment. In parallel, health mobile tools need to be safe, secured and should deserve the trust from consumers. We oppose often regulation and innovation. How to overcome this dilemma?

Moderator:Joan CORNET, Director of mHealth Competence at Centre Mobile World Capital Barcelona

Peteris ZILGALVIS, Head of Unit for eHealth & wellbeing, DG Connect at European Commission

Antoni DEDEU, Director of the Catalan Agency for Health Evaluation (AQUAS) at Catalonia Government


Bleddyn REES, Digital Health Consultant and Lawyer at Osborne Clarke, Board Director at ECHAlliance

Michele PASTORE, Policy manager at Samsung Electronics

10:20

Innovation Showcasing Session

See detailshere

6 start-ups/SMEs will present their innovations, their products & services.


10:50


Coffee break / Networking / Exhibition

11:15

Electronic Health Records (EHR) as enabler of Digital Health

In order to deploy digital health solutions, a good infrastructure enabling data sharing is required. Innovative models of Electronic Health Records are emerging, with new IT architectures, combining potentially several solutions and integrating more users and various categories of data. What are the new architectures? Which strategy to follow? Do we assist today at the transformation of this market? Should we develop cloud-based approach for EHR? How to integrate health and social care data? Could we integrate data provided by the citizen himself (from wearables)? Do the professionals trust all data?

Moderator:Mike SHORT, Vice President at Telefonica Europe

Tomaz GORNIK, CEO at Marand

Matic MEGLIC, Digital Health DirectorIntegrated Health Solutions at Medtronic

Tino MARTI, International Project Manager at Foundation TicSalut, Ministry of Health of Catalonia

12:00


Keynote address
OME™: Mobile Cognitive Healthcare for the Consumer

Michael NOVA, M.D. Chief Information Officer at Pathway Genomics

12:15

Innovation Showcasing Session

See details here

6 start-ups/SMEs will present their innovations, their products & services.

12:45

Lunch/ Networking & B2B Matchmaking / Exhibition

13:30

Keynote address
BUPA: a global approach to digital innovation in healthcare

Andres MARTIN, Partnership Lead for WHO/ITU for mHealth at BUPA Group






13:50

Active & Healthy Ageing - Dementia
Collaboration of Regional Ecosystems & Impact Investing in a Smart Health Deal for Dementia [email protected]

This session is jointly organised by CORAL and ECHAlliance.
Focus of the session is on the following challenge: How can we build a better evidence base and business case together across Europe to prioritise and increase the use of proven smart health solutions that support the needs of people with Dementia living independently in different "dementia friendly" regions across Europe? (Special focus of interest is on the needs of people and their family who deal with mild cognitive impairment with a high risk of Dementia or coping with an early stage of Dementia.


Moderator:Astrid KAAG, Policy Officer at Province of Noord Brabant, Netherlands

Karina MARCUS, Director at Active and Assisted Living (AAL) programme
Frans STRAVERS, Director International Business at TKH Care Solutions

Ian SAVAGE, Director at CDS Leisure Ventures Ltd

Cornelis HAMMEN, Member at VBOB elderly organisation

Matthijs OOSTLANDER, Social Business Analyst at SHAERPA Fund Management

Marielle SWINKELS, Strategic Advisor Programme Smart Health at Province of Noord Brabant, Netherlands


14:35

Design Thinking for Healthcare

Design is pretty newcomer in the healthcare sector. However, modern hospitals are developing innovative approaches in order to improve their efficiency and the experiences of patients and professionals. This session will showcase some experiences and present surprising results.

Moderator:Gabriel ANTOJA, Health IT Consultant at IESE Business School

Joan ESCARRABILL, Director Chronic Care Program at Hospital Clinic Barcelona

Lekshmy PARAMESWARAN, Partner and Director Insights & Strategy at Fuelfor Heathcare Innovation Design

Cristina BUSTILLO, Chief Experience Officer at Barcelona Children's Hospital - Sant Joan de Deu


15:20


Coffee break / Networking / Exhibition

15:50

Integrated care: when health and social care work together

The concept of Integrated Care is a real trend in Healthcare plans – but what exactly is it and what does it mean for populations? Panellists will explain this concept based on real implementation of innovative solutions combined to bring a comprehensive service to populations. This session will showcase concrete experiences and case studies.

Moderator:Arturo ALVAREZ-ROSETE, Director of Research at the New Health Foundation

Joe KILLEN, International Business Development Director at Tunstall

Ester SARQUELLA, Interministerial Social and Health Care and Interaction Plan (PIAISS), Ministry of Health of Catalonia

Leo LEWIS, Senior fellow at the International Federation for Integrated Care (IFIC)

16:35

Innovation Showcasing Session

6 start-ups/SMEs will present their innovations, their products & services.


17:05

Conclusions, Announcements & Closing

Brian O'CONNOR, Chair of ECHAlliance
Joan CORNET, Director of mHealth Competence Center at Mobile World Capital Barcelona

17:30

Networking Reception

Day 3 - Wednesday 24th February 2016

(Mobile World Congress – Fira Gran Vía Hall 8 – Theatre F)

09:25

Welcome, introduction

Brian O'CONNOR, Chair of ECHAlliance

09:30

Public Policies and Digital Health strategy

Various governments representatives and political leaders will present their Digital Health strategy and their vision of the future of health & social care.

Moderator: Brian O'CONNOR, Chair of ECHAlliance

Ain AAVIKSOO, Deputy Secretary General for e-Services and Innovation at Ministry of Social Affairs of Estonia

10:00

Personalised Health and Big Data

The potential for personalised medicine to transform clinical practice has been the subject of much discussion and hype over the last decade. The industry is now poised for rapid growth because of recent advances in the field, including more sophisticated diagnostic technologies and a greater understanding of disease heterogeneity.

Moderator: Bleddyn REES, Digital Health Consultant and Lawyer at Osborne Clarke, Board Director at ECHAlliance


Matej ADAM, Healthcare Industry Leader EMEA at IBM

Allan BOWYER, Lead for mobile health and Patient Support ProgramsEMEA at Janssen/Johnson & Johnson

Florence GAUDRY-PERKINS, International Director Global Government sector at Nokia


11:00


Coffee break / Networking / Exhibition

11:30

Keynote address


Optimising the interaction between Man and Machine:
from F1 to Healthcare

Adam M. HILL, Chief Medical Officer at McLaren Applied Technologies

12:00

Behaviours change

The introduction of technologies in health and social care systems has an impact on people (patients and professionals), organization and workflows. Panelists will present their activities, projects & products, demonstrating innovative strategies to change human behaviors and support decision-making.

Moderator: Joan CORNET, Director of mHealth Competence Center at Mobile World Capital Barcelona


Karolina KORTH, Business Development at Roche Diabetes Care Spain - Emminens Healthcare Services


Fabrice PAKIN, CEO at Ignilife


Kumar JACOB, Non-Executive Director of SLAM NHS Trust and Chair of SLAM Charity Fund

12:35

Keynote address
The hyper-connected individual, household & City meets the healthcare sector

Chris LEWIS, Managing Director of Lewis Insight and Founding Partner of The Great Telco Debate

12:50

Boxed Lunch/ Networking & B2B Matchmaking / Exhibition


13:50

Portraits of Leadership & Transformation in Digital Health

The digital transformation of healthcare has the potential to dramatically change both the products and services that companies produce and the processes used to produce them. The presentation will help better understand how leading "digital" companies in healthcare are responding to the need to build their own digital capability and how this has affected the organizational structures and their need for talent.

Moderator: Diego ESTEBAN, Partner at Russell Reynolds Associates

David LABAJO, eHealth marketing & Business Development manager at Telefónica

Heiko BORWIECK, Managing Director at Philips Germany

Oliver SMITH, Director of Strategy & Innovation at Guy's & St Thomas Charity

14:35

Keynote address
Re-Structuring the Healthcare delivery

Lars KALFHAUS, Country Manager & Site Head at Roche Diabetes Care Spain, and Managing Director at Emminens Healthcare Services

14:55

Innovation Showcasing Session

6 start-ups & SMEs will present their innovations, their products & services.


15:25


Coffee break / Networking / Exhibition

15:55

Consumers Health

Consumers are more and more involved in the management of their health. The relations with health professionals have changed, and patients are more informed. The prevention through an healthy lifestyle is penetrating number of industries such as mass market electronic and entertainment devices, transport, sport, etc.


Moderator: Joan CORNET, Director of mHealth Competence at Centre Mobile World Capital Barcelona


Nick Van TERHEYDEN, Chief Medical Officer at DELL Healthcare

Jorge FERNÁNDEZ MIRANDA, Global Head of Consumer Digital Health at Telefónica


Céline LE COTONNEC, Head of China Connected Services Business Unit at PSA Peugeot-Citroën Asia

16:40

My Healthy Company

This session will describe practical cases of wellness programmes engaged by companies for their employees. What are the benefits of a corporate wellness programme? What is the impact on employees' health status? On motivation? On presenteeism and productivity? What are the benefits on healthcare costs?

Moderator: Bleddyn REES, Digital Health Consultant and Lawyer at Osborne Clarke, Board Director at ECHAlliance

Carlos ESTEBAN, Human Resources & Corporate Responsibility Director at Zurich Insurances

Ingrid VIEIRA, Marketing & Communication Director at Biwel

Jakob TEILMANN, CEO at Mobile Fitness

17:25

Conclusions, Announcements & Closing

17:30

Close

Brian O'CONNOR, Chair of ECHAlliance

Day 4 - Thursday 25th February 2016

(Mobile World Congress – Fira Gran Vía Hall 1 - GSMA Seminar theatre 1 & 2)

09:30

Organised by Mobile World Capital Barcelona - mHealth Competence Center

Motivating Behaviour change with Mobile Technologies




Moderator: Joan CORNET, Director of mHealth Competence Center at Mobile World Capital Barcelona
More events