Milan in Italy was the venue for the 15th Management in Radiology Annual Scientific Meeting. 134 delegates came from more than 15 different countries across the globe, welcomed by Prof. Peter Mildenberger, Chairman of the MIR Subcommittee of the European Society of Radiology and Prof. Lorenzo Derchi, Chairman of the MIR Meeting 2012.
Radiology's future was a continuing theme. Prof. Stephen Baker (USA) spoke on the imminent revolution in radiology and how to prepare for it now. He noted that of all medical specialties, radiology is the one most dependent on the interpretations revealed by the output of machines and, like pathology, nearly always less directly and personally related to interactions with patients. He asked if technology might become our superior, following developments in computer-aided diagnosis. Other challenges are image interpreting by non physicians. He urged radiologists to demonstrate their virtuosity by narrative reporting, and being physically present at on-ward case consultations.
Prof. Elisabeth Schouman-Claeys (France) & Prof. Charles Kahn (USA)


Quality Issues
How to improve quality of radiology services and radiologists was one focus. Prof.Elisabeth Shouman-Claeys (France) reported on implementation of lean methods in diagnostic radiology. All staff are involved in improving quality by identifying waste and eliminating it, whilst remaining flexible and able to change.
Prof. Charles Kahn (USA) described the American College of Radiology's initiatives in using radiology data to improve radiology performance. Dr Pablo Valdés Solís (Spain) reported on the Spanish Radiological Society's scheme to measure and manage the competency of radiologists. Dr. Richard Fitzgerald (UK) closed the session by looking at how to assess radiologists' reporting speed and patient safety. He noted that while technology has enabled more reporting we have little understanding of what our limitations are.
Keeping Ultrasound Within Radiology
The growth of mobile imaging technology has been a challenge to radiology to demonstrate its cost-effectiveness. Prof. Dr. Hans-Peter Busch (Germany) explained how his hospital set up a centralised ultrasound laboratory. Their approach is simple: for the patient it is one problem, one appointment and one solution or answer from the imaging centre.
Prof. Lorenzo Derchi
(Chairman, MIR Meeting 2012)
Training in ultrasound was the topic of a presentation by Prof. Lorenzo Derchi (Italy). The European Society of Radiology (ESR) did a survey in? IEE looking at the number of examinations residents have to perform and the time spent in ultrasound before the end of their training. The survey will be published shortly with action points. Prof Derchi concluded that training programmes should include an indication of the minimum numbers of scans which should be performed as supervised scanning, and incorporate recommendations to evaluate interpretative skills. Prof. Lorenzo Derchi, on behalf of Dr. Michel Claudon (France), spoke on the cost effectiveness of contrast-enhanced ultrasound (CEUS), and urged radiologists to take their place as the best-suited specialist to integrate CEUS into complex patient diagnostic workflows.
Benchmarking
Dr. Martin Maurer (Germany) explained the value of benchmarking as a tool for personnel management. It provided staff with a view of their own role in the whole process, so that they ended up taking more responsibility for fulfilling tasks.
Dr. Bernd May (Germany) addressed benchmarking productivity of medical employees. Measures could include the number of radiologist reports in a time period and these can be compared between types of hospital. However, simple measures do not take into account other use of time such as management, training, research and teaching. In addition, the structure of clinical overhead time differs between modalities. Other factors impacting productivity include mobility of patients, infrastructure and the availability of trained radiologists.
Dr. Mansoor Fatehi (Iran) spoke about the role of analytical informatics in radiology. Detailed data is not easily accessible, but tools are being developed such as digital dashboards to supply and display metrics for the management team to use and act upon. He presented examples of metrics which can be used in radiology management.
A lively discussion of benchmarking followed. Questions were asked about how to judge the quality of the diagnostic reports, and the pros and cons of external as against internal benchmarking.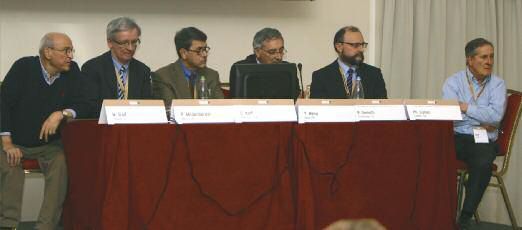 L-R: Prof. Moshe Graif (Israel), Prof. Peter Mildenberger (MIR), Prof. David Koff (Canada), Prof. Yves Menu (France),
Prof. Remy Demuth (France) & Dr. Philip Gishen (UK)
Radiation Dose and Appropriateness
Prof. Peter Mildenberger (German) explained new concepts for dose registration and analysis. He encouraged radiologists to become familiar with opportunities for dose documentation, and include IHE REM (Radiation Exposure Monitoring) in requests for new devices. Laura Coombs (USA) described the American College of Radiology's dose index registry, which enables participating facilities to compare their practice to similarly sized facilities. The registry is intended to provide peer review and quality assurance. Prof. John Carrino (USA) gave an illuminating talk on how to decide between CT, US and MR in the emergency room.
Prof. Peter Mildenberger
(Chairperson, MIR Subcommittee)
In the UK, the Royal College of Radiologists has published referral guidelines for doctors, Irefer. Dr. Nicola Strickland (UK) explained that these guidelines are designed to make the best use of radiology, with appropriate examinations and information for referrers about radiation dose.
Workflow and Workload
Professor Jarl Jakobsen (Norway) looked at considerations when redesigning a workflow in the hospital. He advised that particular focus should be given to what is going on amongst those staff with very frequent interactions. Workflow needs to look at administrative as well as clinical processes.


Dr. Daniel Boxer (UK) talked about a new method of radiologist timetabling his team implemented when they moved to a new hospital. Using this new scheduling system improved productivity by? F% and gave radiologists more control over their time, with the ability to respond to modality short falls. Dr. O. Dicle (Turkey) spoke of the many factors which affect the radiologist's workload. Technology has not necessarily reduced the workload, and interpreting more than a certain number of examinations in a day may increase the error rate. For the future he predicted increasing control of demand via guidelines, the spread of tele radiology, decreased delegation to radiographers and sonographers with increases in new modalities and imaging techniques.

The Future of Radiology
The meeting ended with a stimulating debate on "The future of radiology." Prof. imaging, multi-modality suites, more compact and hand-held devices and more advanced IT. Full tissue characterisation and micro-resolution had not yet been accomplished so radiology risked retaining its current passive observer role leading to relative stagnation. Radiologists risked ceding ground to nanotechnology and artificial intelligence.
Other speakers in the debate pointed to skyrocketing demand for services due to ageing populations, living longer with chronic disease and as cancer survivors. Prof. David Koff (Canada) compared radiology to the aviation industry: when there were aviation accidents, the industry worked hard to prevent these.
Prof. David Koff (Canada)


Dr. Yves Menu (France) talked about a faster decrease in conventional radiology accompanied by the growth of ultrasound. Generation Y radiologists want a better work-life balance so demand for radiologists may well increase. Another factor is that doctors are asking more and more for imaging as a pre-clinical step.