The Garmisch Symposium International - Radiology and Integrated Diagnostics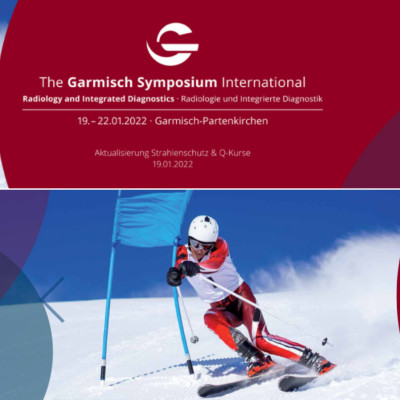 Exhibit
Symposia
Workshops
Organiser
Sponsor
Dear colleagues,
We look forward to welcoming you again personally to the Garmisch Symposium International 2022 in Garmisch-Partenkirchen. The balance between tradition and innovation, between high-end imaging and state-of-the-art clinical medicine have made the Garmisch Symposium International a highlight in the German congress calendar.
Radiology plays a central role in medicine and it is impossible to imagine clinical decision-making processes without it. Radiologists have significant responsibility in the patient's clinical care team and, in an interdisciplinary setting, work together with their specialist clinical colleagues to manage the therapy with high-precision diagnostics and minimally invasive, image-guided interventions. The boundaries between imaging modalities are just as fluid as the transition to specialist clinical subjects - MRI and CT are often complementary. In addition, the diagnostic precision depends on an abundance of other data sources: imaging, clinical, laboratory chemical or histopathological parameters are used in the sense of Integrated Diagnosticscombined for optimal therapy control. We have therefore decided to do away with the tradition of separating the MRT and CT congresses in Garmisch-Partenkirchen and offer you a cross-modal, pathology-based program on the way to Integrated Diagnostics .
In addition to scientific advanced training with practically relevant knowledge for direct application in clinics and practice, technical innovations such as photon counting and low-field MRT are examined in a tried and tested manner - also these in the sense of the new integrated age with a view to optimized therapy control.
Due to the very positive feedback, we are again offering parallel events for MTRA and doctors in further training this year. It deals with emergency room management and the care of seriously ill adult patients and children. These topics pose challenges to all of us time and again and are therefore highly topical.
At the beginning of the congress program there will again be an opportunity to update the radiation protection specialist knowledge. For the Q certifications by the German Radiological Society, we offer courses in cardiac diagnostics and, for the first time, also in prostate imaging.
We are very pleased to be able to offer you a relevant, multifaceted program with excellent speakers and wish you a stimulating and exciting congress.
We look forward to you!
Registration Coming Soon..
More events