NCoBC 2022, 31st Annual Interdisciplinary Breast Center Conference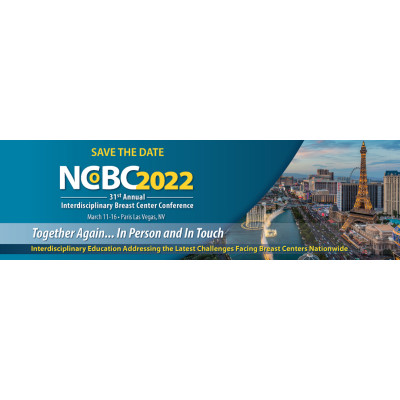 Exhibit
Symposia
Workshops
Organiser
Sponsor
The National Consortium of Breast Centers (NCBC) invites you and your colleagues to attend the 31st Annual Interdisciplinary Breast Center Conference (NCoBC 2022) - March 11-16, 2022.
As President, I am delighted to welcome you to our 31st Annual Interdisciplinary Breast Center Conference. No doubt 2021 was a challenging year and like many of you, we had to pivot and navigate during the pandemic to make changes in our work and life situations. The planning committee did a terrific job of meeting the needs of our attendees and our speakers and delivered a virtual high caliber, state- of- the art educational program that was incredibly valuable to the entire breast team.

This year's program will highlight the interdisciplinary team and bring together experts in breast surgery, oncology, radiology, pathology, nursing, administration, navigation, and psycho-oncology, to share cutting edge updates from prevention, early detection and survivorship. The educational content will include lectures and tumor board sessions in the management of breast cancer, disparities in breast cancer care, management of patients with hereditary breast cancer mutations, new and innovative breast imaging modalities and advances in the care of the breast cancer survivor. Our 2022 planning committee collaborated with experts to assemble pre and post conferences to provide deeper knowledge and includes: Oncoplastic Breast Surgery course, Innovation in Breast Imaging, Management of the High-Risk Patient and Implementation of a High Risk Program, and Clinical Breast Assessment. The breakout tracks include: administration, mammography positioning workshop, lymphedema, sexual health 1st responders, quality/NQMBC and navigation and will share expertise across the entire patient journey to meet the needs of our attendees.

I would like to acknowledge and express my sincere appreciation to the entire program committee, conference chair and co-chair, Dr. Khai Tran and Dr. Rob Ward, and chairs and co-chairs of the clinical, radiology, administration, survivorship, navigation and quality tracks, for their hard work, dedication and commitment to creating this dynamic program with amazing speakers and presentations, to provide you with new tools and knowledge to bring back to your respective breast teams and practices.
Come to Las Vegas in 2022. Bring your team!
Programme Coming Soon..
More events