ESOR GALEN Courses 2021 Interventional Radiology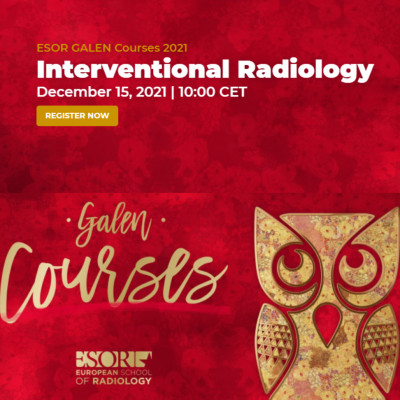 Exhibit
Symposia
Workshops
Organiser
Sponsor
Course information
This course is intended for residents and recently board-certified radiologists starting or aiming to work in interventional radiology (IR). It is designed to provide an introduction into the basic techniques and practices in IR. Fundamentals about patient preparation and appropriate indications will be discussed together with important topics in daily clinical work in IR. In this basic IR course, tips and tricks for CT-guided interventions including biopsies, drainages and tumour ablations will be presented together with basic information about IR treatment of peripheral arterial disease from the pelvis down to the foot. Additionally, basic procedures in oncological IR including tumour ablation and embolization will be introduced as well. The combination of didactic lectures and case-based workshops guarantees the high educational value of this teaching programme.
Learning objectives
- to learn about indications and contraindications in interventional radiology
- to refresh knowledge about percutaneous arterial access and vascular closure
- to be familiar with modern techniques for treatment of peripheral arterial disease
- to learn about interventional techniques for tumour treatment
- to become familiar with non-vascular IR techniques including biopsies, drainages and ablation techniques
CME accreditation
An application for this online event has been made to the European Accreditation Council for Continuing Medical Education (EACCME) for CME accreditation. The EACCME is an institution of the European Union of Medical Specialists (UEMS), www.uems.eu. CME credits are only available when participating in the actual live streaming and after completion of an online evaluation form. No CME credits are available when watching on demand.
More events