ESOR FOUNDATION COURSES 2021 Head and Neck Radiology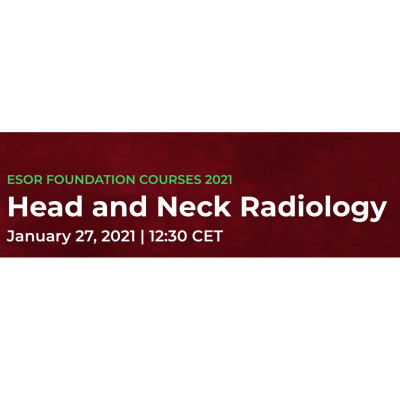 Exhibit
Symposia
Workshops
Organiser
Sponsor
Course information
This course is aimed at residents in their 4th and 5th year of training in radiology and recently board-certified radiologists interested in Head and Neck Radiology. It is strictly adhered to Level II of the European Training Curriculum and intends to focus on key information that are essential for both diagnosis and treatment planning in pathologic conditions in the head and neck. The proper imaging techniques to be used, the protocols and key imaging findings will be discussed. The course includes six topics consisting of 40 minutes of theory and case presentations followed by a live Q&A section after each session for interaction with the faculty members.

Learning objectives
- to understand the indications, limitations and comparative values of each of the cross-sectional imaging modalities in challenging clinical queries
- to provide the rationale of reporting on the basis of a checklist
- to become familiar with current treatment options in head and neck lesions
- to understand how imaging information impacts treatment choice, planning, and stratification
CME accreditation
4 European CME credits (ECMEC) accredited by the European Accreditation Council for Continuing Medical Education. The EACCME is an institution of the European Union of Medical Specialists (UEMS), www.uems.eu. CME credits are only available when participating in the actual live streaming and after completion of an online evaluation form. No CME credits are available when watching on demand.
Programme
12:30-13:10
Sudden hearing loss: how to approach?
B. Verbist, Leiden/NL
13:10-13:50
Imaging of the oropharynx and hypopharynx
B. Schuknecht, Zurich/CH
13:50-14:00
Questions & Answers
14:00-14:30
Break
14:30-15:10
Proptosis: imaging approach
B. Verbist, Leiden/NL
15:10-15:50
Facial nerve palsy: the role of imaging
B. Schuknecht, Zurich/CH
15:50-16:00
Questions & Answers
16:00-16:30
Break/strong>
16:30-17:10
Key information in inflammatory lesions of the paranasal sinuses
B. Verbist, Leiden/NL
17:10-17:50
A slow-growing lump in the neck: key imaging features
B. Schuknecht, Zurich/CH
17:50-18:00
Questions & Answers
Registration available online here
More events