DRK - 103 Deutscher Röntgenkongress/103rd German X-ray Congress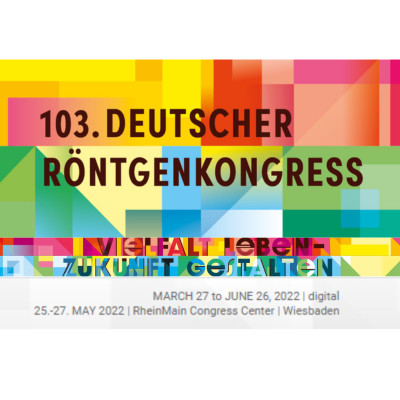 Exhibit
Symposia
Workshops
Organiser
Sponsor
Start of the X-ray Congress
"Live diversity - shape the future" - that is the motto of the 103rd German X-ray Congress, which was chaired by Congress President Dr. Kerstin Westphalen was opened.
Berlin, March 24, 2022. The German Roentgen Society (DRG) invites you to the 103rd German X-ray Congress: From March 27 to June 26, 2022, the participants can look forward to an extensive training and scientific program. This will be offered in a digital congress route as well as on three days of presence in the RheinMain CongressCenter in Wiesbaden (May 25 to 27, 2022). The motto of the congress is "Living diversity – Shaping the future". The main topics of the congress include diversity and sustainability in radiology as well as 50 years of computer tomography and interventional radiology. The President of the Congress is Dr. Kerstin Westphalen,

Digital training and professional exchange in presence - the 103rd German Radiology Congress combines two communication channels in this year's program and thus the best of two worlds. The program contains a wealth of insightful topics for the participants. "Our program offers something for everyone. The participants will benefit from our main topics in particular," says Congress President Dr. Kerstin Westphalen. "It is time that social issues such as variety and diversity were discussed in the radiological community and the findings from this were implemented in our everyday work." Kerstin Westphalen emphasizes that radiology - like medicine in general - faces a shortage of skilled workers is a great opportunity

In order to sensitize the participants of the congress even more to topics such as environmental and climate protection and to develop joint solutions in radiology, the congress also focuses on the topic of sustainability. "In radiology, we have a high consumption of resources and high emissions of climate-damaging CO2 emissions. For our future, we have to do something about it together," says Kerstin Westphalen. The German X-ray Congress will therefore discuss how radiology can become more sustainable and how appropriate concepts can be implemented.
German Roentgen Congress celebrates 50 years of CT and looks to the future
This year's German Roentgen Congress is also celebrating an anniversary - computed tomography (CT), often referred to as the "workhorse of radiology", was developed 50 years ago by the English engineer Godfrey N. Hounsfield, making it one of the most important imaging technologies Procedure. "Whether examining the lungs, the abdomen or the head - a CT provides important information about changes or injuries in the body quickly and precisely," says Kerstin Westphalen. "It was CT that first paved the way for us to modern diagnostics and minimally invasive therapy."
Interventional radiology as a further focus
Interventional radiology is an essential area of ​​radiology, because here diagnosticians become (minimally invasive) therapists. "Interventional radiologists treat their patients with the most modern, minimally invasive and microtherapeutic interventions via vascular catheters without the need for open surgery," says Kerstin Westphalen. These doctors are therefore an important component of health care.
 
More events