30th Annual Interdisciplinary Breast Center Conference 2021 - NCoBC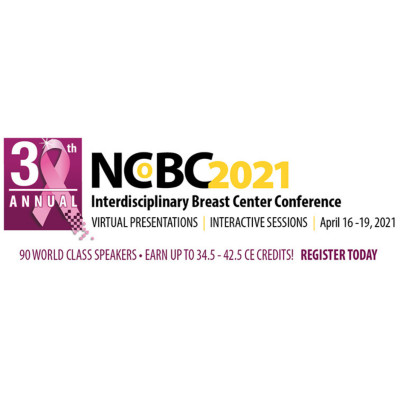 Symposia
Workshops
Organiser
Sponsor
At each year's conference, the NCBC brings together medical and industry professionals from around the globe to network, learn and share ideas, methodologies and treatment options that improve quality of care and outcomes for patients diagnosed with breast diseases. The NCBC is dedicated to providing opportunities for continuing education to oncologists, surgeons, nurses, clinicians and administrators in order to help advance the delivery of treatment options and quality of care.
NCoBC is approaching a significant milestone in 2020: it is the 30th anniversary of this amazing organization, which continues to evolve as needed in order to stay relevant in the ever-changing landscape of breast care. I am humbled and honored to serve as this year's program and conference chair, and firmly believe that it is our mission to design a conference that meets not only the needs of every expert within the breast care continuum, but also to bring new ideas and the latest thinking in every aspect of breast care, delivered to you by truly talented speakers who are well-regarded in their field. Our very talented planning committee, worked diligently to put our program together and we are indebted to these amazing guest speakers, who care enough to come and share their knowledge and experience with us.
One quick glance of the program will show that we are serious about our commitment to every expert within the multidisciplinary breast care team. More than just providing up-to-the-minute information, it is important to me that we make this information relevant to your everyday work and challenges, and give you information that is applicable to your daily practice, pearls which you can apply as soon as you get back to your clinical work.
In addition to the main conference, there are multiple pre- and post-conferences which will bring tremendous value to your patients and organization. This year, we are introducing several new topics, including comprehensive management of lymphedema, innovations in imaging technology, and the nuts and bolts of how to implement a high-risk program within your breast center. We want to show you how to do it, step by step. We continue to highlight the ever-growing importance of genetics in breast care, the evolving and critically important role of navigation, the latest oncoplastic surgical techniques, the importance of clinical breast assessment, and various relevant certification programs that are listed.
We understand that the difficult journey through breast cancer doesn't end with the diagnosis or surgery or radiation, it's just the beginning. This program, as a reflection of this organization and all of its passionate members, speaks to the importance of the entire continuum of care, through survivorship and beyond.
Programme Available Online here
Registration available online
More events