EUSEM - 12th European Congress of Emergency Medicine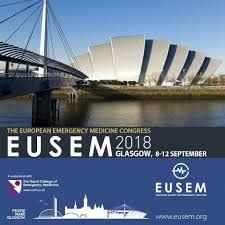 Symposia
MEET THE EXPERTS
During Ultrasound Live Scanning Sessions
WHERE: GE Healthcare Booth #46

Dr. Tomas J. Villén Villegas
Consultant Anaesthetist @ FEA DE URGENCIAS
Hospital Universitarioa LA PAZ, Madrid, Spain
When: Monday 10th September
13.00 - 14.00
Topic: Shock early detection & treatment

Dr. Christopher YAP
Emergency Medicine General Hospital Sheffiled Teaching Hospitals NHS Foundation Trust, Sheffield, UK
When: Tuesday 11th September
13.00 - 14.00
Topic: POCUS in shock and trauma
Get a LIVE DEMO @ EUSEM 2018
Visit the "Hands-on Area" from 10:40 to 11:10 on September 10th for an additional LIVE DEMO opportunity.
@ GE Healthcare Booth - Please fill in the form.
@ "Hands-on Area" from 10:40 to 11:10 on September 10th
http://landing1.gehealthcare.com/EuSEM-eblast-2018-en-lp1.html
Workshops
Organiser
Sponsor
Organised in association with the Royal College of Emergency Medicine, just after the historical celebration of the 50th anniversary of Emergency Medicine in the UK
An interesting and valuable scientific program covering all the aspects of our discipline
Opportunity to discuss about challenging issues like response to disasters, cardiac arrest, geriatric and paediatric emergencies, leadership and management in EM and many other
Occasion for networking and amuse, in a spectacular social program or simply spending some time around in the nice and cosy city of Glasgow
Programme available online here

By Bus
The 100 Riversider service operated by SPT runs between George Square (north) in Glasgow city centre and the Scottish Event Campus and Riverside Museum (south) and back every 30 minutes. View timetable.
Other bus services operate to and from the Scottish Event Campus, stopping on Govan Road-Cessnock near the Clyde Arc bridge, only 2 minutes' walk from the venues. Full details are available at X19 Stagecoach timetable.

From the airport
You can get to Glasgow from the airport by bus, taxi or train. Journey times are around 30 minutes in normal traffic.
Scottish Citylink provides direct bus services from Edinburgh Airport to Glasgow's Buchanan Bus Station every 30 minutes. Alternatively you can catch a bus or taxi to Edinburgh Haymarket and then catch a train to Glasgow Queen Street Station. Low levels trains from nearby Glasgow Central station take you to the Exhibition Centre stop.

Lothian Buses provides public transport to Edinburgh Airport with the Airlink100 express bus from Edinburgh city centre as well as local bus services. A night bus, the N22, also runs between Waverley station and the airport.

Glasgow Queen Street station provides the main rail link between Glasgow and Edinburgh, with eight direct services per hour on weekdays.

Once in Glasgow, the SEC is a 10-minute cab ride from Queen Street, or a short train ride from Glasgow Central (five minutes' walk from Queen Street).


More events