ESEM 2020 - Emirates Society of Emergency Medicine Conference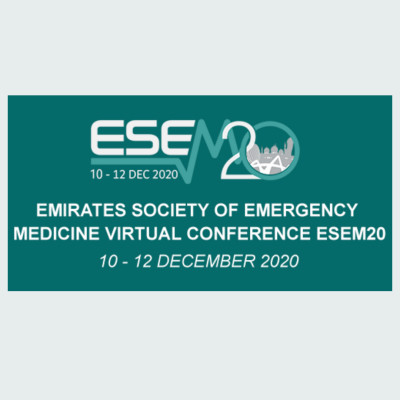 Exhibit
Symposia
Workshops
Organiser
Sponsor
Dear Friends and Colleagues,
On behalf of the Emirates Society of Emergency Medicine (ESEM), I would like to extend the warmest welcome to you as we start preparing for the first ever virtual edition of the Emirates Society of Emergency Medicine Scientific Conference (ESEM20) which will be held from 10 - 12 December 2020. Join us for the unique virtual experience that showcases the latest developments in all fields of Emergency Medicine.
As we stand united against the ongoing distress caused by coronavirus COVID-19, this year we have decided to shift our seventh edition to a virtual meeting space with the goal of providing an engaging and meaningful experience for all the delegates. The success of our virtual conference will depend on all of us working together and creating a common space and purpose, as we build a dynamic, interactive, and inclusive conference.
With six successful and rapidly growing editions and more than 1300 delegates, 35+ participating countries, and an exceptional scientific program delivered by over 130 reputable local and international speakers; ESEM is becoming the largest and best Emergency Medicine Conference in the Middle East. The conference has been comprehensively organized to capture the excellent innovations in Emergency Medicine, primarily in the areas of Trauma, Toxicology, Pediatric Emergency, ED Operations, Critical Care, Emergency Nursing, Cardiovascular Emergencies and other sub branches related to the field of emergency medicine. We are also proud to continually improve ESEM's special tracks like 'Pick a Clue' and 'The Fulcrum' debates. Moreover, we are also very focused on improving our participants' skills by introducing pre-conference workshops on the day before the conference which we highly recommend to everyone.
With our strong belief in the importance of research in EM, especially in our region, the facilitation of abstract submissions will still be continued by the Abstract Review Committee and we will be publishing winning abstracts in PubMed-Indexed Journal similar to last year with hopefully a bigger number this year. We owe a deep sense of gratitude to all our sponsors for their generous support, also to our dedicated teams, and supporting societies, for their priceless contributions and advice in planning and organizing this worthwhile conference.
We look forward to welcoming you online for ESEM20.
Kindest regards,
Saleh Fares MD MPH FRCPC (EM) FACEP FAAEM
President, Emirates Society of Emergency Medicine
Chair, Emirates Society of Emergency Medicine Scientific Conference
Programme available online here
Registration available online here
More events