Emirates Critical Care Conference 2021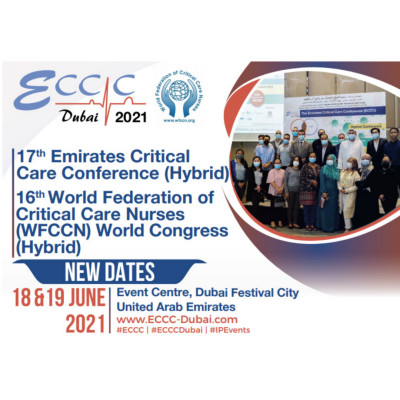 POSTPONED DUTE COVID-19 HEALTH CONCERNS
NEW DATES : 18 - 19 JUNE, 2021
Hybrid Event
Find ECCC On Social Media
Exhibit
Symposia
Workshops
Organiser
Sponsor
The success of the 15th Anniversary of the Emirates Critical Care Conference has thoroughly been an Inspiring Journey followed by the 16th edition of Hybrid Emirates Critical Care Conference series in 2020 during the challenging COVID 19 Pandemic. Our heartfelt thanks to our Patron H.H. Sheikh Hamdan Bin Rashid Al Maktoum, Deputy Ruler of Dubai, UAE Minister of Finance, President of the Dubai Health Authority, United Arab Emirates for their support and confidence in this conference, leading towards technology advancement in the field of critical care in the country.
I take this opportune honour to announce the 2021 Hybrid Conference in April this year the "17th Emirates Critical Care Conference" & the "16th World Federation of the Critical Care Nurses world congress" from 8th – 10th April 2021, at Intercontinental Hotel, Event Centre, Dubai Festival City, UAE.
On behalf of the International Pan Arab Critical Care Medicine Society (IPACCMS), World Federation of Critical Care Nurses Congress (WFCCN), Emirates Nursing Association – Critical Care Nurses Association (ENS – CCN) and InfoPlus Events L.L.C (IPE), I welcome and invite our audience the opportunity to once again join and participate this Hybrid Conference, which will run Virtually as well as Onsite for local and regional attendees who will be unable to travel.
Today, the world faces this challenging time with the ongoing COVID -19 Pandemic, yet we remain hopeful and positive. We successfully adapted to Virtual and Hybrid conference structure and stay committed to deliver our vision. ECCC has successfully hosted the 16th edition – 3 Hybrid Emirates Critical Care Conference series for our audience under the theme "The COVID -19 Pandemic Experiences and Lessons Learned: Organs Involvement" during the last quarter of 2020. We look forward to your support and participation.
The conference will be organized by the InfoPlus Events and supported by Dubai Health Authority – DHA and patronage by the Sheikh Hamdan Award for Medical Sciences – SHAMS.
Programme will be available online here
Registration Available Online here
More events