CCSSA/SASPEN Critical Care Congress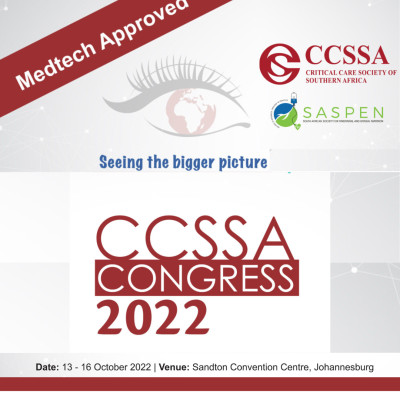 Exhibit
Symposia
Workshops
Organiser
Sponsor
ision statement: To promote, coordinate and encourage the development and application of clinical nutrition practices in South Africa.
objectives:
To improve the management of Parenteral and Enteral nutrition in all its aspects in South Africa.
To promote contact with international groups with similar objectives.
To promote research into nutrition.
To promote education at all levels in nutritional management.
To provide funding for educational travel by its members or selected visitors.
To organise regular regional and national symposia or congresses (including joint symposia/congresses with other Societies)
To collect and administer funds in the furtherance of these objectives.
To provide a central co-ordinating body for the various groups involved in Parenteral and Enteral nutrition in Southern Africa.
Registration will be available soon..
Programme available online here
More events