BACCN Conference 2022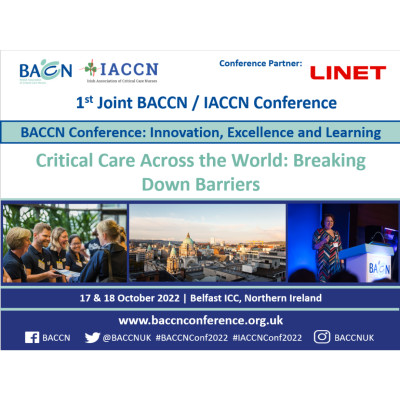 Exhibit
Symposia
Workshops
Organiser
Sponsor
37th & 1st joint BACCN / IACCN Conference 2022

"Critical Care Across the World: Breaking Down Barriers"
The international focus on Critical Care services have significantly increased as a consequence of the global COVID-19 pandemic. A significant proportion of patients diagnosed with COVID-19 required input and/or admission to Intensive Care which led to an unprecedented increase in overall capacity to cope with the influx of patients on top of an already stretched system. Delivering sufficient critical care, both within and outside of the traditional walls of an Intensive Care Unit encompassing the whole patient and family journey requires the physical infrastructure, such as beds and equipment, but more importantly a highly trained, skilled, and experienced multidisciplinary workforce to deliver the individualised care we all believe each patient deserves.
We'll be continuing our theme of "Critical Care Across the World: Breaking Down Barriers" for when we finally meet up face-to-face in Belfast as this exemplifies what Critical Care is as a speciality, but even more so, what Critical Care Nurses have done across the world over the last 2 years. We will continue not just to share our learning and experiences but celebrate our profession across many traditional borders.
Here is a couple of early highlights you can look forward to as part of conference:
Keynote Speakers
We are super excited to announce the first of our keynote speakers: Prof Jos Latour (@JosLatoru1).
With Jos's extensive research into family centered care, I've asked him to talk about family and friends' involvement in the patient's critical care journey as this can have profound consequences with regards to care decisions, delivery, and outcomes. Yet this is something that varies significantly across countries.
Research Symposium (facilitated by Dr Suzanne Bench)
The year's joint BACCN/IACCN conference provides an exciting opportunity for international research collaboration. Our theme 'Critical Care across the world: breaking down barriers' once again offers us a chance to learn together how we can improve the health outcomes and experiences of our patients and their families alongside the lived experience of the critical care nursing workforce. More information to follow soon.
Conference Prizes
For details on the prizes available and how to enter, please visit the Abstracts page.
Registration - open!
Make sure you join us at #BACCNConf2022 in October 2022 to learn about the latest theories and best practice from your peers, be inspired by cutting edge innovations, but even more importantly coming together to become a stronger voice within the 21st century.
We realise that times are tough and so are delighted to offer our 2022 Conference at the same rates as the last time we were able to get together in 2019.

More events