Antibiotics 2017: 3rd World Congress & Exhibition on Antibiotics and Antibiotic Resistance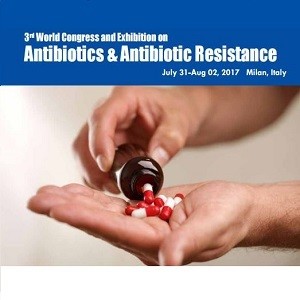 Exhibit
Symposia
Workshops
Organiser
Sponsor
"3rd World Congress & Exhibition on Antibiotics and Antibiotic Resistance" along with external scientific association with the researches, academicians, and Antibiotics market leaders around the globe, scheduled on July 31- August 01, 2017 at Milan, Italy.

The main theme of the conference is
"The Future Of Antibiotics: Key Opportunities & Emerging Therapies"
Conference Highlights:
The Emergence of Antimicrobial resistance




Antibiotic Resistance: Opportunities and Challenges




Different Types of Antibiotics & Applications




Antibiotics for Various Diseases and Infections




Antibiotic Prophylaxis




Antibiotics: In Pregnancy and Lactation




Antibiotics in Different Industries & Modern Antibiotics




Drug Discovery and Novel Delivery Technologies




Antibiotics for Emerging and Re-emerging Diseases




Antibiotic Regulatory Affairs & Business Opportunities




Clinical Trials of Antibiotics and many more …..



Why to attend ?
Antibiotics 2017 is a platform to discuss and learn about the latest advancements in the field of Antibiotics and Antibiotic Resistance as the world's consideration turned regarding the urgency of new antibiotics as the antimicrobial resistance is growing day by day. Many developed nations and International health organizations are trying to focus of the current situation and making new policies to prevent the adverse effects of Antibiotic resistance.
This 2-day conference gathers researchers, academia, labs, Drug Manufacturers, government agencies, health professionals, hospitals, young investigators, pharma and labs and presents their opinions through key notes, and case study presentations. This conference lays a platform for all the researchers working in the field of Antibiotics to know the latest developments and the current situation of the Antibiotic resistance problem.

You will meet!
Food Safety Experts
Alliances of antibiotics
Public Health Preparedness Sectors
Commercialization
Strategic Drug Development
Scientific Business Communications
Medical Affairs and Networking
Executive Council of Global
Directors of Pharma Industries
Antibiotics Associations & Societies
Business Entrepreneurs
Antibiotics Researchers
More events