3rd BEACH Course, BElgian Annual eCmo Hands-on Course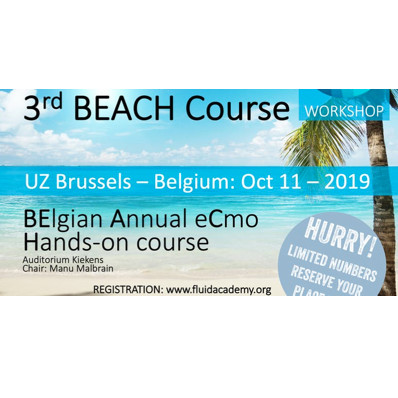 Exhibit
Symposia
Workshops
Organiser
Sponsor
Learning objective: This workshop will outline the basic principles of extracorporeal life support made easy by key-experts in the field. During the course delegates will gain a good understanding of ECMO in the following areas: Theoretical concepts, basic physiology and pathophysiology, cardiac and respiratory support and monitoring, alarm settings and monitoring, role of cardiac ultrasound during ECMO, newest technologies, circuits and devices, practical hands-on sessions and simulations.
Background: The BEACH programme provides a full-day, interactive course on Extracorporeal Membrane Oxygenation (ECMO) training. The course uses a variation of theoretical presentations, practical and simulation sessions presented by an international faculty. It is the only course in Belgium to be endorsed by the International Fluid Academy and has previously been accredited by the EACCME for 9 points. The course is inclusive of all course materials, food and drinks at the University Hospital Brussels, Auditorium Kiekens, Laarbeeklaan 101, 1090 Jette, Belgium. Delegates will have opportunity to meet, greet and ask questions regarding all topics presented.
Hands-on ECMO equipment training
Delegates will have the opportunity to have hands-on training in small break-out groups with ECMO equipment. Delegates will experience practicing insertion of cannulas on a mannekin, circuit surveillance, monitoring, alarm settings, simulations and trouble-shooting.
Chairs and Speakers (tentative):
Ms Marta Velia Antonini, Critical Care Nurse, I° ICU - University Hospital of Parma, Italy

Mr Jeroen Blanckaert, perfusionist, University Hospital (UZB), Brussels, Belgium

Prof Stefaan Bouchez, Department Anesthesia, University Hospital, Ghent, Belgium

Prof Dr Elisabeth de Waele, Department of Critical Care, Clinical Nutrition, University Hospital (UZB), Brussels, Belgium

Ms Jo-Anne Fowles, Critical Care Nurse, Papworth, UK

Dr Joop Jonckheer, Department of Critical Care, Pneumology, University Hospital (UZB), Brussels, Belgium

Dr Laura Kerselaers, Department of Vascular Surgery, University Hospital (UZB), Brussels, Belgium (TBC)

Dr Stijn Lochy, Department of Critical Care, Cardiology, University Hospital (UZB), Brussels, Belgium

Prof Dr Manu Malbrain, Department of Critical Care, University Hospital (UZB), Brussels, Belgium

Dr Dinis dos Reis Miranda, Sophia Kinderziekenhuis, ErasmusMC, Rotterdam, The Netherlands

Dr Koenraad Nieboer, Department of Radiology, University Hospital (UZB), Brussels, Belgium

Dr Harlinde Peperstraete, Department of Critical Care, Ghent, Belgium

Prof Jan Poelaert, Department of Anesthesia, University Hospital (UZB), Brussels, Belgium

Dr Matthias Raes, Department of Critical Care, Anesthesia, University Hospital (UZB), Brussels, Belgium

Dr Peter Rosseel, University Hospital (UZB), Brussels, Belgium

Mr Kristof Sorel, perfusionist, University Hospital (UZB), Brussels, Belgium

Mr Kurt Staessens, perfusionist, University Hospital (UZB), Brussels, Belgium

Prof Fabio Taccone, Department of Critical Care, ULB Erasme, Brussels, Belgium

Mr Matthias Van Eetvelde, perfusionist, University Hospital (UZB), Brussels, Belgium

Registration available online here
Pax: limited to a max of 40
Price: exceptionally low @ 250 EUR early bird (meals and drinks included)
Comment: This workshop can be booked either separately or in combination with attending the 40th Anniversary Academic ICU Symposium (Oct 12th 2019)
More events