2nd Annual Dubai International Conference on Infectious Diseases and Vaccination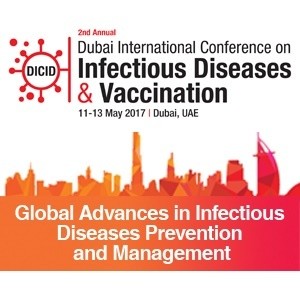 Exhibit
Symposia
Workshops
Organiser
Sponsor
The Dubai International Conference on Infectious Diseases and Vaccination, taking place on 11-13 May in Dubai, UAE, provides three days of robust discussions on the most effective strategies related to diagnosis, prevention and
management of common infectious diseases as well as explores new ideas and concepts related to vaccinations and infection control. Regional and international experts will gather along with the policy makers to discuss crucial topics in the field of infectious diseases, vaccination, microbiology and infection control.
The meeting will encompass a rich programme of interactive sessions that will discuss exciting topics such as new vaccines, HIV, TB, antimicrobial stewardship, infectious diseases in the ICU, emerging epidemics, viral hepatitis management and lots of other hot topics through interactive presentations, panel discussions, real clinical cases scenarios and practical workshops.
Who should attend?
Physicians and other healthcare professionals and policy makers
from the following specialties:
• Infectious diseases
• Infection control
• Internal medicine, general practitioners
• Family medicine practitioners
• Critical care
• Gastroenterology
• Paediatrics
• Public health
• Microbiology, bacteriology, virology, pathology
• Epidemiology
Benefits of attending:
• Hear from regional and international experts and policy makers in the field of infectious diseases, clinical microbiology and vaccination
• Learn about the best approaches in antimicrobial stewardship and preventing antimicrobial resistance
• Get updates of immunisation recommendations for children and adults
• Develop highly effective hospital infection control programmes
• Review latest diagnostics for early detection of infectious diseases
• Update your knowledge on regional emerging epidemics and their detection and management
• Earn CME points by attending this conference
Call for abstracts for Infectious Diseases & Vaccination Awards
The Infectious Diseases & Vaccination Awards' mission is to distinguish, celebrate and support the impressive work that the medical team do to help prevent and manage infectious diseases through clinical practice, education, research and policy. If you have research, research in progress or interesting case study, share it for a chance to win.
Who can participate?
• Infectious diseases consultants, specialists and residents
• Infection control
• GP, family medicine, internal medicine, paediatrics
• Critical care/ intensive care/ surgeons, pulmonologists, chest consultants
• Microbiology, bacteriology, virology, pathology
• Public health, epidemiology, gastroenterology, gynaecologists
• Pharmacists and nurses
• Other healthcare professionals
Terms and conditions:
• Participants should be registered in the conference
• Abstracts are submitted electronically using the online registration form. Visit www.dic-id.com to fill the abstract form
• Deadline for paper submission is the 1st of April 2017
• The first 3 highest scoring abstracts will receive an award in recognition of excellence in the field of infectious diseases and the first winner will deliver a presentation in the conference
Bronze Pricing
Early Bird Price

(Register and pay before 10 April 2017)

Regular Price

USD 300

USD 500

Includes:

• 2-day conference

• Networking coffee breaks

• Lunch

• Post conference presentation access

• Certificate of attendance
Gold Pricing
Early Bird Price

(Register and pay before 10 April 2017)

Regular Price

USD 400

USD 600

Includes:

• 2-day conference

• Networking coffee breaks

• Post-Conference Workshops

• Lunch

• Post conference presentation access

• Certificate of attendance
Congress Day One
08:00 - 08:40

Registration, coffee and networking

08:40 - 08:50

Welcome from Maarefah Management

08:50 - 09:00

Chairman's welcome and opening remarks

09:00 - 09:30

MOHAP Keynote Speech

Invited speaker from the UAE MOHAP

09:30 - 10:00

WHO EMRO Keynote Speech

Rana Hajjeh, MD
Vaccination Updates: Regional Review
10:00 - 10:30

Interactive Panel Discussion: Challenges in immunisation and immunisation practices

Introduction of new vaccines into the immunisation
programmes
Harmonising vaccination schedules in different settings
The role of the NITAGs in the region, how can they be
activated to be up to the task

Moderator: Najwa Khuri-Bulos, MD, FIDSA
Panelists:
Abdullah M. Assiri, MD, FACP
Jaleelah Sayed Jawad
Rayhan Hashmey, MD

10:30 - 11:00

Networking coffee break

11:00 - 11:30

Review on new vaccines in the market

Ibrahim Zaid Bin Hussain, MBBS, ABCP, FAAP

11:30 - 12:00

Adolescent vaccination guidelines

Najwa Khuri-Bulos, MD, FIDSA

12:00 - 12:30

Flu vaccine recommendations and guidelines

12:30 - 13:00

Prayer and networking lunch break

14:00 - 14:30

Updates on HPV epidemiology and prophylaxis





HIV
14:30 - 15:00

HIV prevention: Post exposure prophylaxis in the healthcare setting

Ali Elgalib

15:00 - 15:30

HIV from saving lives to improving lives

Laila M. Al-Dabal, MD

15:30 - 16:00

Networking coffee break





Diagnostics in the Era of Antimicrobial Stewardship
16:00 - 16:30

Impact of newer diagnostic techniques on improving clinical practice

Zulfa Omar Al Deesi, MSc, PhD

16:30 - 17:00

New advances in MDR TB diagnosis and management

Eiman Mokaddas

17:00 - 17:30

Closing remarks and end of day one





Congress Day Two
| | |
| --- | --- |
| 08:30 - 08:50 | Registration, coffee and networking |
| 08:50 - 09:00 | Chairman's welcome and opening remarks |
| | |
Managing Infections in 2017
09:00 - 09:30

Understanding adequate antimicrobial therapy

Ali Omrani, MSc, FRCP, FRCPath

09:30 - 10:00

Antimicrobial stewardship-can it control AMR and HAI?

Ian M. Gould

10:00 - 10:30

Fungal Infections: Updates and guidelines

10:30 - 11:00

Networking coffee break

11:00 - 11:30

Novel strategies to combat antimicrobial resistance

Souha S. Kanj, MD, FACP, FIDSA

12:00 - 12:30

Updated guidelines for sepsis management

Pierre Tattevin

12:30 - 13:00

Chronic hepatitis B and C treatment

13:00 - 14:00

Friday's prayer and networking lunch break





Clinical Challenges: Scenario-Based Discussion
14:00 - 14:30

Challenging infections in the ICU

Ali Omrani, MSc, FRCP, FRCPath

14:30 - 15:00

Challenging infections in immunocompromised patients

Rayhan Hashmey, MD

15:00 - 15:30

Challenging infections: Infection control conundrum

Thamer Hamed Al Enazi

15:30 - 16:00

Networking coffee break





Emerging Epidemics and Outbreaks
16:00 - 16:30

Five years of MersCoV: Knowns and unknowns

Abdullah M. Assiri, MD, FACP

16:30 - 17:00

A close review of emerging infectious diseases in the region





The DICID Quiz
17:00 - 17:30

Questions to be answered by the audience followed by discussion: Winners will avail valuable prizes

Ali Omrani, MSc, FRCP, FRCPath

17:30 - 18:00

Closing remarks and end of day two
Ali Omrani, MSc, FRCP, FRCPath,

Consultant and Head of Adult Infectious Diseases

King Faisal Specialist Hospital and Research Centre, KSA






Ashraf Al Houffi, MS, MRCP, FRCP

Head of Infection Control,

Dubai Hospital, UAE






Hossam Al Tatari, MD

Head Paediatric Infectious Diseases

Tawam Hospital, UAE






Najwa Khuri-Bulos, MD, FIDSA

Distinguished Professor of Paediatrics and Infectious Diseases, University of Jordan, Jordan, Adjunct Professor, Paediatrics Infectious Diseases

Vanderbilt University, USA






Rayhan Hashmey, MD

Deputy Chief Medical Officer, Consultant Infectious Diseases and Chair of Academic Affairs

Tawam Hospital, UAE






Souha S. Kanj, MD, FACP, FIDSA

Head, Division of Infectious Diseases, Chair, Infection Control Programme

American University of Beirut, Lebanon






Zulfa Omar Al Deesi, MSc, PhD

Consultant Microbiologist, Head of Microbiology and Infection Control Department Unit

Rashid Hospital, UAE
More events