27th ESRA-SPAIN Annual Meeting 2021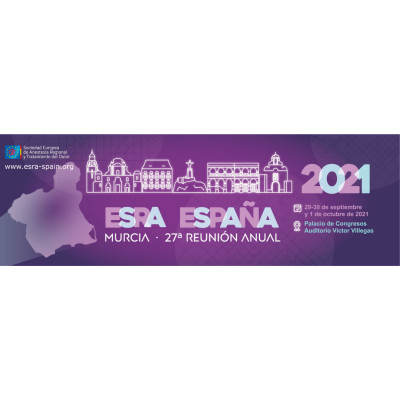 Exhibit
Symposia
Workshops
Organiser
Sponsor
As president and on behalf of the Organizing and Scientific Committee, we welcome you to the city of Murcia, where the 27 ESRA Spain Congress is scheduled to be held on October 29 and 30, 2021.
We have tried to offer an engaging and innovative scientific program that meets everyone's expectations after a pandemic year that has prevented us from interacting as we were used to. We hope that, by then, we will have returned to a situation that allows it to be carried out as normally as possible. We would like our congress to serve everyone as a forum for debate and discussion, in which professionals involved in different fields of anesthesiology, exchange experiences and opinions.
The Organizing Committee wants to thank the ESRA Board of Directors for the trust they have placed in us and which we hope not to disappoint. Also our recognition to the Pharmaceutical Industry, without whose collaboration it would not be possible to return to normality and continuity of these scientific acts. Our thanks also to the local entities of the Autonomous Community of the Region of Murcia for their unconditional support.
Locoregional anesthesia and pain treatment have experienced impressive development in the last twenty years, going from being little-known or practiced skills to being one of the most important bodies of knowledge in the Specialty. The use of technologies, such as ultrasound and others, has contributed greatly to this. This development has led to techniques or knowledge from other areas being incorporated into the practice of locoregional techniques, such as the assessment and management of hemostasis or the optimization of patients in the pre and postoperative period. Thanks to all of them, surgeries that previously required a prolonged admission and high-risk general anesthesia are now resolved with one or more locoregional techniques and a short-stay admission.
In addition to scientific knowledge, we wish you to enjoy your stay in Murcia, a city that surprises because of how welcoming it is, because it is heir to a rich architectural and cultural heritage and because it has an excellent leisure and restaurant offer. We recommend that you enjoy the local cuisine, heir and integrating of multiple cultures and based on our Huerta de Murcia and which has been recognized as one of the best in Spain. On behalf of the Organizing Committee, you are welcome.

Programme Available Online here
Registration Coming Soon..
More events