16th Annual Conference German Society for Interdisciplinary Emergency and Acute Medicine (DGINA)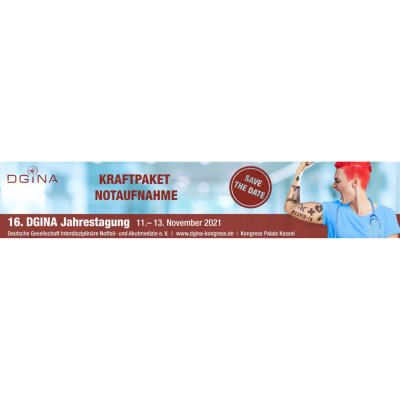 Exhibit
Symposia
Workshops
Organiser
Sponsor
Dear colleagues, those interested in emergency medicine and Friends of the DGINA, It is a particular pleasure for us to invite you to the 16th annual DGINA conference from November 11th to 13th, 2021 at the Kongress Palais in Kassel.
Externally, this is shown by the additional qualification in emergency care and the additional training in clinical acute and emergency medicine, internally by the central role of the emergency department in hospitals, which goes well beyond the level of pure emergency medical first aid, e.g. in pandemic management. Many train for our "power pack", a high-quality and sometimes unusual congress that targets the whole range of our activities.
The "young wild ones" are set: The Young-DGINA will again make a significant contribution to the congress. Dedicated practitioners give specialist lectures for young professionals, original emergency care topics are reflected, high-ranking experts report on interesting specials for the "old hands" and "secret sessions", the content of which you will develop together with us over the next few months.
We are very excited about it ourselves! In addition, the health policy aspect will be highlighted with a panel discussion, flanked by various lecture topics and fueled in the spirit of the DGINA. Even if we are all about the same thing - high-quality care for the acute and emergency patients entrusted to us - the points of view are sometimes different. With this in mind, we hope to be able to inspire you all in Kassel for the emergency room powerhouse and wish all participants an exciting annual conference with a lot of educational input and enough time for mutual exchange.

Programme Available Online here
Registration Available Online here
More events