Surgical Education Week ASE 2021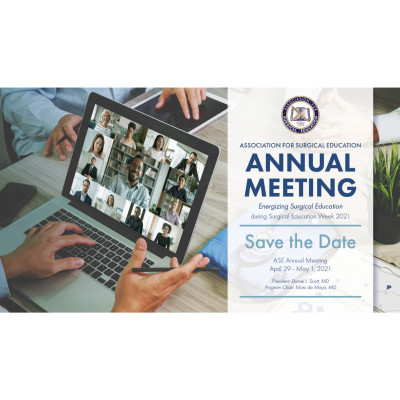 Pre-Meeting Courses
*Additional Registration Required
Monday – Tuesday
April 26 – April 27, 2021
Find ASE On Social Media


Exhibit
Symposia
Workshops
Organiser
Sponsor
The leadership of the Association for Surgical Education (ASE) continues to monitor the ongoing global pandemic of Coronavirus (COVID-19). The health, safety and well-being of our members and attendees are of paramount importance. Therefore, we are transitioning our plans from an in-person ASE Annual Meeting to a virtual meeting.
The virtual ASE Annual Meeting will take place April 29 through May 1.

We are excited to offer you this unique educational experience that can be presented in a manner that keeps everyone safely distanced, compliant with institutional travel bans, and promotes more access to the meeting for our colleagues around the globe.
Surgical Education Week 2021 will occur over the same dates – April 27 through May 1.
More information is forthcoming and will be available soon on our website.
Registration information for the ASE Annual Meeting will be available soon.
All of you have been on the front-line of healthcare throughout this unprecedented time. Thank you for continuing to serve your patients and communities. We are grateful to have you as a part of the ASE.
Programme Available Online here
Registration Available Online here
More events