Stress Management for Health & Social Care Professionals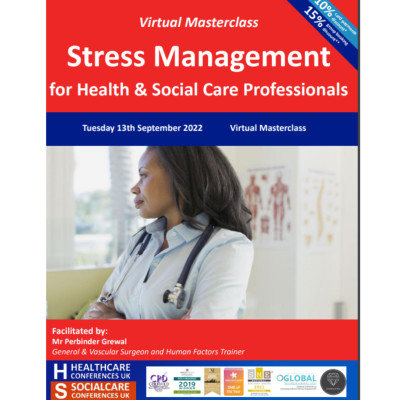 Exhibit
Symposia
Workshops
Organiser
Sponsor
The past twelve months have been a challenging time for anyone working in the NHS, in the recent 2021 NHS staff survey 44% of staff reported feeling unwell as a result of work related stress.
This one day virtual masterclass will focus on Stress and Techniques to reduce and manage Stress. We will look at reducing and how to relieve stress through recognised psychological exercises and techniques. We will look at internal and external factors that cause stress and how to mitigate them to improve your work and home wellbeing.
The course is facilitated by Perbinder Grewal, a General & Vascular Surgeon, Human Factors & Patient Safety Trainer, and Emotional Intelligence Practitioner; leads on medical education both locally and nationally; Member of the Faculty of Surgical Trainers at the Royal College of Surgeons of Edinburgh; formerly lead for e-learning for healthcare for the Royal College of Surgeons of England; experienced trainer and coach who uses new insights to develop patient safety, staff engagement and psychological safety; has Postgraduate Certificates in Leadership and Coaching.
More events