Paris Healthcare Week 2018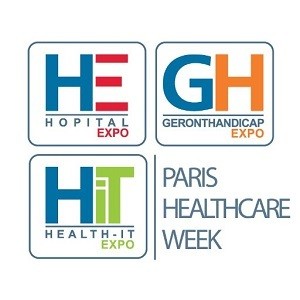 Symposia
Workshops
Organiser
Sponsor
Paris Healthcare Week is a leading French event dedicated to technologies, equipment and solutions to manage healthcare facilities.
Paris Healthcare Week will take place from 29 to 31 of May 2018 at Paris Expo, Porte de Versailles, Paris, France.
Organized by PG Promotion, Paris Healthcare Week brings together the historic tradeshows of the Hospital Federation of France (HopitalExpo, GerontHandicapExpo and Health-ITExpo) and the Salon Infirmier® (tradeshow dedicated to the nursing profession), offering a global, diversified and comprehensive vision of innovative solutions for the healthcare system.
The event welcomes nearly 30,000 experts, decision-makers and health professionals involved in the management, connection, equipment and construction of healthcare facilities.
Paris Healthcare Week will host several trade fairs:
HopitalExpo / GeronHandicapExpo: The leading professional events dedicated to managing, building and transforming healthcare facilities

Health-ITExpo: The leading trade show for healthcare IT.

For this new edition, Paris Healthcare Week honors the Hospital Architecture and hosts 3 major events in the heart of the greatest francophone health ecosystem meeting:
Hospital 21

ART OF D.A.T.E

Architects Village

Certificate of attendance will be available from 01 June 2018.
To generate and download your certificate of attendance, please login to your PARIS HEALTHCARE WEEK
Personal Area
.
You will be able to download your certificate of attendance and those of your colleagues after the show. This certificate of attendance will be issued if and only if the person has actually come to the event.
Access for free and in a few clicks at Paris Healthcare Week 2018!
Paris Healtchare Week, a leading French event dedicated to technologies, equipment and solutions to manage healthcare facilities, opens its doors for 3 days of meetings and new discoveries.


The Agoras (Forum) are mini conferences in connection with current events of the sector, free of charge.
For this new edition, Paris Healthcare Week, highlights themes related to the news grouped under 4 different Agoras:
The Agora "IT" having for main themes:
Artificial intelligence

Digital Ehpad

Medical Imaging

Security / Blockchain

Information Systems & GHT

The Agora "Manager" with themes:
Purchasing

Ethics

GHT and change management

HR, Training and Recruitment

Organizational, economic and financial strategy

The Agora "Patient / Resident" whose main themes are:
HAD – MAD (Home Care)

Living environment

Mental Health

Therapy and animations

And finally the Agora Architecture / Construction
Patient Centered care: conception, design, ergonomic, chromatic, signage, lighting

Evolution, management and evaluation of hospital heritage

Building Information Modeling: a shared language for all the professionals who build the hospital of the future

The links between architecture and biomedical technologies

Future outpatient spaces: from the reflexion to the conception

Beyond the Hospital's walls: city actor, town planning, integration and security

Architectural answers to medical reflexions: how to integrate architecture into medical project

The place of architecture in a digital and connected hospital

From the waiting room to the reception: best of European architectural projects

Care and dementia: designing for an aging population

Voyage
Benefit from reductions on your air travel:

Reductions are applied to a wide range of airfares on all Air France and KLM flights worldwide**, up to 47% off on domestic flights within metropolitan France (including Corsica)**.
Event : La Paris Healthcare Week
Event ID : 32336AF
Valid for travel from 24/05/2018 to 05/06/2018
Event location : Paris, France
access the preferential fares granted for this event*,

book your reservation,

issue your electronic ticket **,

and select your seat*,

* subject to conditions
** not available in some countries
If you buy your ticket via the AIR FRANCE & KLM Global Meeting website, your electronic ticket will carry a special mention justifying the application of the preferential fares.
Should you prefer to process your reservation and ticket purchase directly with an Air France and KLM sales outlet, or by an authorized travel agency, please print this page and present it when buying your ticket to justify the application of the preferential airfare.
Please keep this document with you so as to be able to justify the special fare. You may be asked to do so at any point in your journey.
The frequent flyer programmes of Air France and KLM partner airlines allow you to accumulate miles when using Air France or KLM flights.
Get 20% off!
At a train station or approved travel agency, upon presentation of the discount voucher, you will get a return ticket to the conditions of the congress rate. The coupon is valid on all SNCF tariff lines.
This rate gives you 20% discount in 1st and 2nd class on:
the full price in TGV,

full price excluding possible supplements (reservation, surcharge) in other trains.

The ticket is valid for 15 days including at least one day of the event. This reduction is accessible according to the following conditions:
in the TGV, within the limits of the places available for this tariff,

in the other trains, on the SNCF Grandes Lignes and TER network, on all the available seats.

The ticket is valid only for the TGV in which you have booked. The discount voucher will have to be composted and presented with your ticket when checking on the train.
Ask for your SNCF flyer by email at
[email protected]
by mentioning your name, first name and postal address.
Offer valid while stocks last.
More events